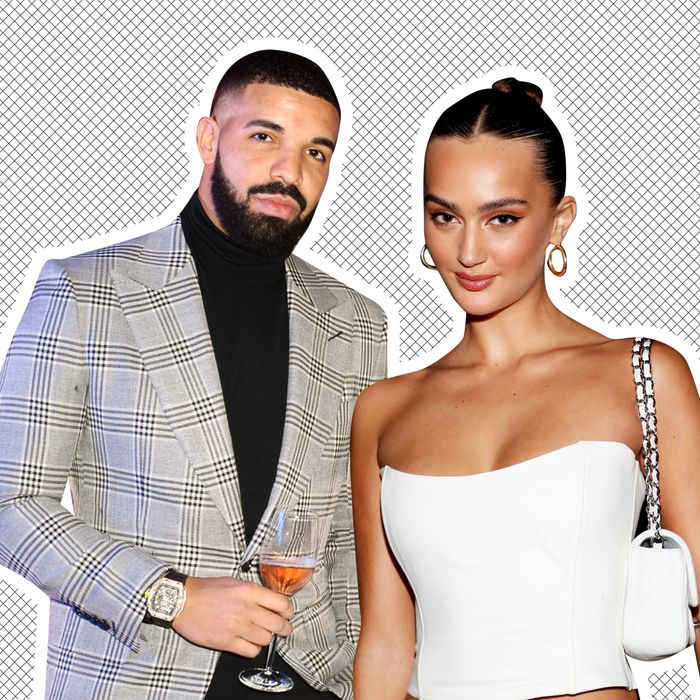 Drake and [checks notes] Suede Brooks?
Photo-Illustration: by The Cut; Photos: Getty Images
Drake must be stopped: Just yesterday, he was in some restaurant somewhere, AirDropping anonymous women photos of themselves from mere feet away. And now it has emerged that just before this Inappropriate Dining Incident, he was yachting around the south of France with someone called Suede Brooks. Objectively? Troubling.
If you, like me, have never heard the name "Suede Brooks" before, she is a 21-year-old model and YouTuber, according to "Page Six." She accompanied Drake (35) to St. Tropez's Le Club 55, a famous beach club beloved of celebs on Tuesday. "Page Six" is wondering if "Champagne Papi found his Champagne Mami" (barf) in Brooks, but my guess is probably no. Sources tell Entertainment Tonight that "they're having fun together"; fun that includes "whispering in each other's ears and laughing." Their friends are allegedly "rooting for them to hang out more," which to me sounds about as preliminary as possible.
And then, please recall, he was publicly hitting on a totally different woman, via AirDrop, on or about Thursday, admitting in his Instagram Stories that he had "tried" to send her a photo of herself "cause she's a dime." (The implication being that she declined, bless her.)
This is very embarrassing behavior that makes my whole body wince, but then Drake is always doing embarrassing things, such as wearing a watch that blurts out explicit phrases such as, "I'd love to kiss your pussy," and layering the sound of squeaking bedsprings over his songs to let you know that he definitely fucks — what, you don't believe him? His unabashed and unrequited thirst once prompted him to buy Rihanna a billboard and had him drunk-texting J.Lo (J. Aff?) for a minute. Best of luck to Suede Brooks.