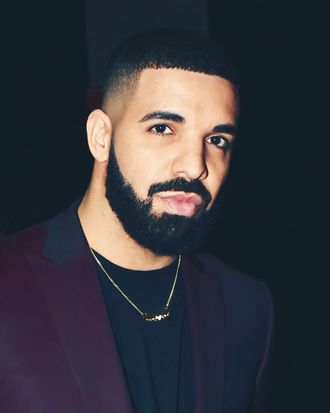 Photo: Jeff Kravitz/BBMA2019/FilmMagic for dcp
There's nothing wrong with being horny on main. There is perhaps something a bit weird about being so horny on main that you post a photo of what appear to be complete strangers on your Instagram story after trying to AirDrop that same photo to them. And yet, for reasons that truly escape me, Drake did this very thing on Thursday, sharing a photo of a woman looking at her phone at a restaurant with his 117 million followers.
"Tried to airdrop this woman a pic of herself cause she's a dime," he wrote on the photo, adding a shrug and laughing crying emoji. To be fair to Drake, it's possible that he asked this woman for permission to post her photo on his social media. It's also possible that she accepted the AirDrop as the compliment he clearly thought it was. (Though his use of the word "tried" suggests that she declined the message). But there's really no way around it: This behavior is extremely creepy, and it's definitely not appropriate restaurant etiquette.
Imagine, you're enjoying a nice lunch out with your friends and some strange man tries to AirDrop you a photo of yourself. I'm pretty sure my reaction would be: "Check, please!"