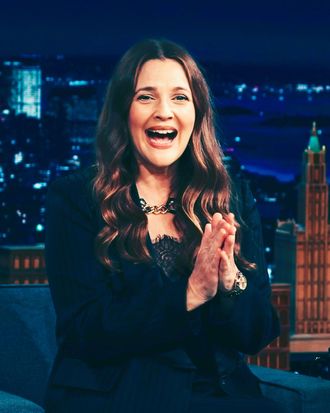 Photo: Sean Gallagher/NBCU Photo Bank via Getty Images
As the great Hilary Duff once said, "Let the rain fall down / And wake my dreams." These wise words from a 2003 pop hit, "Come Clean," now live on in Drew Barrymore, who, apparently, loves getting caught in the rain more than I have ever loved anything in my life.
Over the weekend, she shared a video of herself getting caught in the rain, smiling happily as it covers her glasses in smudges that will definitely be a pain to clean later. "Whenever you can, go out into the rain," she said in the video, shaking out her hair and laughing. "Do not miss the opportunity!" This is actually the second time Barrymore has gone viral for her love of precipitation. In May, she started a trend when she encouraged followers to "run out in the rain, don't miss the opportunity." Her uncontained delight at something so mundane might seem over the top to some, but to those people, I say, Why do you hate joy?
Barrymore has never been shy about sharing her emotions. Barely a month ago, she was crying on Instagram because she discovered a window during her remodel. "I knew there was a window here, I knew it," she said in the video, crying as she pried drywall from the old window. "It's so hopeful. It's like, when things can be covered up and dark, you can pry it open and create light," she added.
If there's one thing Drew Barrymore is going to do, it's share her emotions. Just look at pretty much any episode of The Drew Barrymore Show. There was the time she cried meeting Ryan Kiera Armstrong, the actress who took on her Firestarter role in the Peacock remake, or when she teared up talking to Kristin Davis about Sex and the City, or when she burst into tears upon being surprised by David Letterman on her talk show. She just FEELS. SO. MUCH. And why wouldn't she? She's a Hollywood legend. If she wants to cry at a window, let her cry!