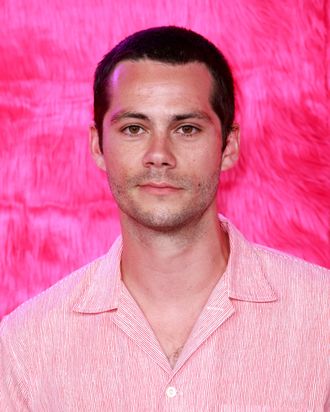 Photo: Frazer Harrison/Getty Images
Dylan O'Brien, who rose to fame starring in MTV's Teen Wolf and the Maze Runner film series, doesn't understand why he receives so much attention online, but he's embracing life as the object of Twitter's affection. "The reaction was interesting because it's so meta," he says during a Zoom call, before the premiere of his new movie, Not Okay, which bestowed upon us the gift of O'Brien with a blond buzz cut. It's also the second film he acts in this year with co-star Zoey Deutch, whom he says "has infectious energy."
In Not Okay, O'Brien plays a weed-obsessed social-media influencer who has his internet persona all figured out, and in our conversation, the actor lives up to the "internet boyfriend" hype he gets online. O'Brien, whose hair is longer and brunet now, cheerfully responds to each question, willing to go down any rabbit hole produced before him. Would he be a good internet scammer? A hard no — the idea of being dishonest unsettles the actor. Which reality-show cast would he like to join? Vanderpump Rules or Love Island, but he much prefers to consume reality TV than contribute to it. Read on, below, for more of his thoughts on tweeting from the heart, stoned emailing, and his status as a true Swiftie.
The movie you star in is called Not Okay. Are you okay? How are you right now?  
Yeah. I'm in a great spot in life. I'm very okay.
You're very active on Twitter. When Roe v. Wade was overturned, you summed it up really well by tweeting "fucking dystopia." Can you tell me more about sharing your unfiltered political thoughts online? 
Sometimes it is really unfiltered, isn't it? Sometimes, constructively, I think I should try to contribute in any sort of percentage that I can. Then sometimes it's more impulsive and more emotional, just like anyone with any sort of social media sometimes tends to use it.
It's funny to hear you read those back to me, because I was tweeting very emotionally and very angrily. It does feel dystopian. It does feel like such a large leap back in a way that scares me so much. That is just what I was feeling in that moment because it's the truth. It's my measly attempt to fight.
It's clear that you're very online, and so is your character in this movie. How did your understanding of social media and TikTok impact how you approached the character?
The idea of creating a whole persona who can exist and succeed online, and be a path to success for a person who is just completely curated by themselves, has always been really interesting to me. It's like a disguise. We're so drawn to authenticity, but I think in some cases we can be drawn to characters. As far as the inspiration for my character, it's everywhere. It's all of the internet combined.
In this movie, your character is all about weed, and Zoey Deutch's character, Danni, makes a bad decision while she's high. What's the worst decision you've made while under the influence?
I don't think anything too harmful, just a couple of funny tweets maybe that I look back on and I'm just like, "Oh, this guy's stoned." I think I chose a funny email address one time. It was supposed to be a business email, but it never even ended up being that because I was really stoned and I just thought it was funny to use a certain address. It ended up not being usable in a professional manner. I can't say [what it was].
You appear in Taylor Swift's short film All Too Well. What's your favorite Swift song?
Oh, wow. I mean, I'm a big 1989 person, and I love Lover as well. "Lover" is a go-to karaoke song for me. I can't wait for her new album! I was bugging her the other day about when it was coming out. I guess I could say I'm in a Lover era. I'm just so obsessed with it.
You had bleached-blond hair for Not Okay. What kind of maintenance went into your look? 
Not much. I only had it for like two weeks, and we didn't even have to re-dye it. I sort of just didn't wash it for the week and a half that I shot.
Can you set the record straight? Do blonds have more fun?
Yeah, I think they do. I think it's true. It was a blast of a month, and being blond makes you feel different.
This interview has been edited and condensed for clarity.