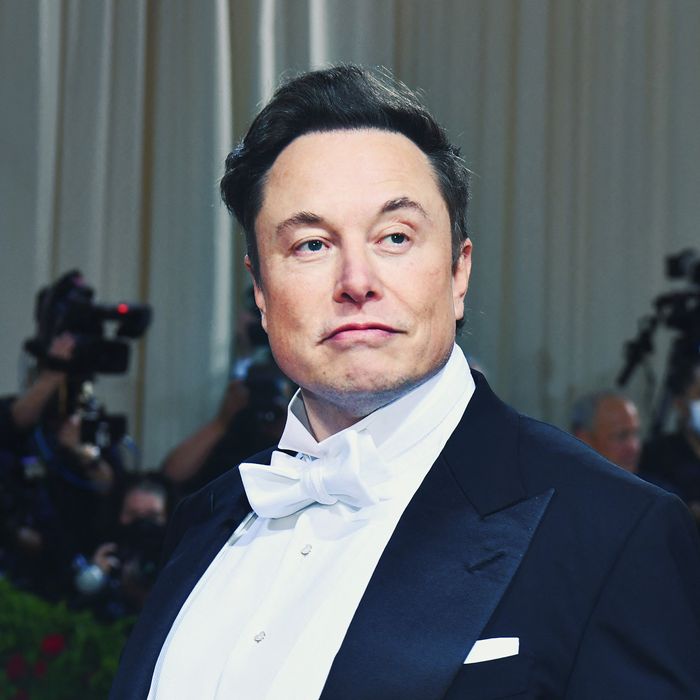 Photo: Angela Weiss/AFP via Getty Images
True to his claim that he's "doing my part" to repopulate the Earth, Elon Musk appears to have quietly had twins in November with Shivon Zilis, a top executive at one of his companies.
A new report by Insider includes court documents from a petition filed by Zilis and Musk in April, requesting to change their children's last name to Musk. According to the documents, the twins arrived a few weeks before Grimes and Musk had their second child, Y — who, you may recall, was also a secret until she rudely interrupted Grimes's Vanity Fair interview with a tantrum. At the time of the interview, which presumably took place shortly after Y was born, Grimes and Musk appeared to be back together, though she announced when the piece came out in March that they had broken up, and soon after "Page Six" reported that she was dating whistleblower Chelsea Manning. As far as the world knows, Musk, who is 51, has fathered ten children: 18-year-old twins Griffin and Xavier; 16-year-old triplets Kai, Saxon, and Damian with his ex-wife Justine Wilson; X and Y with Grimes; and now Zilis's twins. (Musk lost a 10-week-old son in 2002 to sudden infant death syndrome.)
Zilis, who is 36, is the director of operations and special projects at Neuralink, Musk's company that makes Bluetooth-enabled brain chips (sounds totally chill). She appears to have been working with him since 2017, when she joined Tesla as an AI expert. It's not the first time Musk's relationships with his employees have raised questions. In May, Business Insider reported that a flight attendant at Space X, Musk's spacecraft company, had been paid $250,000 to keep quiet after she was allegedly propositioned by Musk on his corporate jet. Musk denied the allegation and called the report a "politically motivated hit piece." Prior to that, in December, four former SpaceX employees came forward with allegations of sexual harassment at the company. Other women have claimed they faced years of sexual harassment at Tesla, Musk's electric-car company.
While both Zilis and Musk declined to comment on Insider's report about the twins, he reiterated his concerns about underpopulation on Twitter on Thursday morning after the story came out. "Doing my best to help the underpopulation crisis," he wrote. Sounds like his Mars commune just got a little bigger.