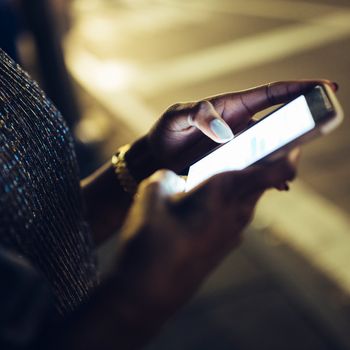 Photo: Getty Images/Westend61
In the days since the Supreme Court struck down Roe v. Wade, dozens of trigger laws have gone into effect across the U.S. to varying degrees of success, leading to chaos for people in restricted states trying to understand their legal options. Many have attempted to fill in information gaps on social media, sharing resources, offering housing to those who'd need to travel for an abortion, and volunteering to mail abortion pills, which are currently a legal gray zone in many states with bans.
But since the decision came out, Facebook and Instagram users started noticing that the platforms were removing or censoring a lot of abortion-related posts during a critical time for information sharing. So far, there doesn't seem to be much rhyme or reason to which posts were affected, though a lot seem to be related to abortion pills. Here's what we know.
.

Facebook and Instagram removed posts about abortion pills.
On Monday, Facebook users started noticing that posts stating that abortion pills can be mailed were being taken down within minutes of being published. Some users got messages from Facebook saying the posts violated their community standards on "buying, selling, or exchanging medical or non-medical drugs" — a clause that didn't seem to apply to painkillers when a Vice reporter tested it out. Another reporter tried posting an offer to mail abortion pills and was informed they'd violated Facebook's standards on selling "guns, animals, and other regulated goods." Yet the app didn't seem to have an issue when the reporter swapped in the words "weed" or — more tellingly — "gun."
A Meta spokesperson clarified on Twitter that "content that attempts to buy, sell, trade, gift, request or donate pharmaceuticals" violates Facebook's policy, but noted that addressing the "affordability and accessibility of prescription medication" is allowed. The post concluded, "We've discovered some instances of incorrect enforcement and are correcting these."
Meanwhile, a similar issue had already emerged on Instagram. Multiple users who posted following the Dobbs ruling offering to order abortion pills for others or host people traveling for a procedure say their posts were promptly taken down for violating community guidelines. Abortion Finder, a comprehensive database that connects users with verified abortion providers throughout the U.S., noted that their Instagram account had been suspended for a few hours Sunday morning, with the app claiming that the account "doesn't follow our community guidelines on guns, animals, and other regulated goods." On Monday, posts with the hashtags #abortionpills and #mifepristone (a common abortion medication) briefly appeared to be blocked, with Instagram notifying users that recent posts with those tags were "hidden because some posts may not follow Instagram's Community Guidelines." By Monday afternoon, the hashtags were unblocked. On Tuesday, an Instagram user found that a job listing from the nonprofit Women on Web, a Canadian nonprofit self-managed abortion provider that conducts online consultations and mails abortion medication to countries around the world, was also hidden.
.

Instagram has restricted posts about abortion pills in the past.
This is not the first time people have run into trouble posting about abortion pills on Instagram. In March of 2020, the app blocked a pro-choice selfie filter that placed a crown of abortion pill packs on people's heads, saying that the filter was "non-sponsored content promoting pharmaceutical medical products." Last year, two accounts belonging to organizations that help people find and use abortion pills were temporarily suspended — one in May, which Meta later said was a mistake, and another in August, days before Texas's six-week abortion ban went into effect, which allegedly violated the app's community guidelines or terms of use.
.

Instagram also appeared to be marking a wide range of abortion-rights posts as sensitive content.
In addition to censoring posts about abortion pills, Instagram also added a warning to many abortion-related posts (the Cut's database on abortion services included). The app seemed to be flagging these posts as "sensitive content," a nebulous category that Instagram's website classifies as content that abides by their community guidelines but "could potentially be upsetting to some people." When a story or post is deemed "sensitive," users encounter a screen covering their view of the post and are required to click an extra button to see the post's content. In some cases, users are being asked to validate their age before they can proceed. Instagram doesn't provide any examples of what might be considered "potentially upsetting," nor does it specify how a post could get flagged as sensitive. While some of the flagged posts linked to abortion resources and information, others merely expressed pro-choice views.
Even more concerning is the fact that marking a post as "sensitive" on Instagram makes it much harder to find, thanks to a feature the platform rolled out in July of 2021. The so-called Sensitive Content Control leaves "sensitive" content out of any area of the app that makes recommendations — including placement in your timeline, search results, Explore page feeds, and suggestions for accounts you might follow. App users above the age of 18 can adjust their sensitive content settings, choosing between three settings: more aggressive filtering, less aggressive filtering, or a "Standard" level that all Instagram accounts defaulted to when the feature was first introduced.
Instagram addressed the explosion of sensitive content warnings on Tuesday, writing on Twitter that "people around the world are seeing our 'sensitivity screens' on many different types of content when they shouldn't be. We're looking into this bug and working on a fix now." When reached for comment, a representative for Meta again outlined the company's Restricted Goods policy and pointed to several tweets citing non abortion-related posts that were also suddenly flagged as sensitive, indicating the issue wasn't limited to posts about abortion. The representative also confirmed that the Instagram bug has been fixed.
While posts related to abortion do seem to be readily available as of Friday morning on both platforms, Meta does not appear to have many qualms about limiting open discussion of abortion. After the Supreme Court decision leaked on May 12, Meta reportedly sent out a company memo telling employees not to "discuss abortion openly at work," because it created "a heightened risk of creating a hostile work environment." The company reiterated that request following the Dobbs ruling, reminding employees not to talk about the decision on large channels in the company's internal communication platform. The same day, they also announced that they would reimburse employees for expenses related to traveling for an abortion "to the extent permitted by law."