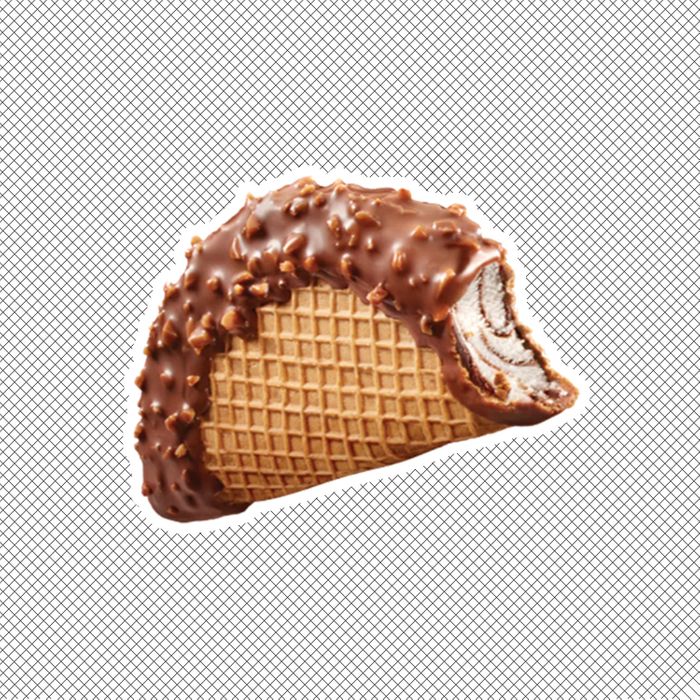 Photo-Illustration: The Cut; Photo: Klondike
The disappointments of summer 2022 keep coming. There's a lifeguard shortage and a new, extremely contagious COVID-19 variant, and ice cream trucks are struggling to make ends meet (to name only a few). To make things even worse, Klondike, purveyor of novelty ice cream products found inside gas-station freezers, has announced that it's discontinuing the Choco Taco after a nearly 40-year run.
Apparently, the decision is the result of lagging demand. A Klondike representative told People the taco was "entirely discontinued" this month due to an "unprecedented spike in demand for different Klondike products over the past two years." Sorry, but what? The iconic Choco Taco — a sugar cone folded into the shape of a taco, filled with vanilla ice cream and partially coated with milk chocolate and peanuts — is over, while monstrosities like this strawberry-milkshake pouch and the Heath Bar get to live? "Here I stand, vindicated," wrote comedian Roy Wood Jr., who controversially trashed the Choco Taco on Twitter in 2020. "You spent days slandering me. What you didn't spend, was money on them folded ass ice cream cones."
Choco Tacos were created in 1983 by Alan Drazen, a Jack & Jill Ice Cream Company employee who struck gold at the intersection of frozen dairy and wildly inauthentic Mexican food. I admittedly haven't eaten one in years, but I remember the superior feeling of getting one from an ice cream truck in the 2000s while my childhood enemy unwrapped his sad bubblegum ice pop. Not all of us made good choices. RIP to these folded ass ice cream cones.