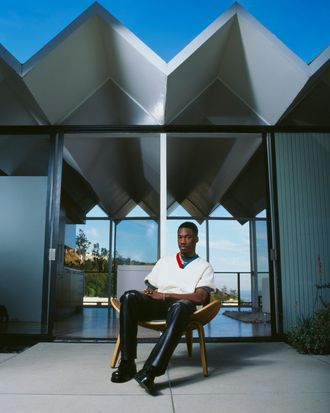 If you've survived heartbreak lately, you've probably listened to Givēon. Admittedly, crushed or not, it's hard not to get lost in the voice and lover-boy lyrics of the 27-year-old Long Beach, California, native. The seven-time Grammy-nominee rose to fame in 2020 when his goosebump-making voice was featured on Drake's "Chicago Freestyle." That same year he released his EP Take Time, featuring his hit track "Heartbreak Anniversary." Last month Givēon released Give or Take, his debut album that guides the listener through a conversation between Givēon and his mom. "My last EP told a story but in a more vague way and less descriptive. This one is a lot more specific to me and my experiences," he says.
You might recognize one song in particular: "Lost Me" is already trending on TikTok, playing in the background of users showing off how happy and single and not looking for "the one" they are. That said, he's romantic — the type to send love notes and still remember his first heartbreak. Twitter likes to call Givēon's music "toxic" — with lyrics like "if you're here looking for love that's where you lost me" — but I like to think of it as emotionally enticing, but maybe a little player.
There are two tracks named after dates, "Dec 11" and "July 16" — why? 
I was trying to structure the album like a timeline of me having a conversation with my mom and just updating her on everything that's going on in my life. It takes place in a journal and every time I write in my journal there's a date.
There are so many ad libs from your mom on the album. What's the best advice she's ever given you? 
"Life is what you make it," because that's so instilled in me — anything that happens to me good or bad, I don't blame anyone but myself.
Tell me about your first heartbreak.
It happened in middle school and it didn't really teach me a good lesson. It kind of taught me to just protect my heart at all times because you never really know. I think it made me have the perspective of whenever you're in a relationship, whatever it is, the advantage always goes to the person who cares the least kind of, unfortunately.
I was emotional in middle school — a romantic. I would write notes and pass them in class.
I need to hear more about these notes.
I would just write poems for a crush. So I would be sending rhymes like "roses are red, violets are blue," those types of things.
Okay, back to the music — tell me five things you always have to have on tour.
Throat Coat Tea — it pretty relaxes the vocal cords — my friends, my PlayStation 5, my phone, obviously, and lastly …something for my appearance or hygiene like cologne.
Wait, what's your favorite cologne right now?
I don't know what it's called, but Chanel gifted it to me, it's a newer one. I hit a couple of spritz and then I'm on my way. I'm big on smell. It affects my mood too, to know that I smell good.
I'm a big fan of springy and summery scents, and I like vanilla all the time. That's my whole vibe, too, just like nothing too masculine with scents.
You asked this question in a tweet so I am going to ask you: Would you rather a lie that feels good or the truth that hurts?
As long as the lie feels good and doesn't negatively impact what I'm doing in my life or anything like that then I'll take the lie. If it's a white lie that if I never find out the truth then it'll literally never affect my life then I'll take that over the truth that'll just have me thinking about it all day anyway.
That sounds just like what a Pisces man would answer.