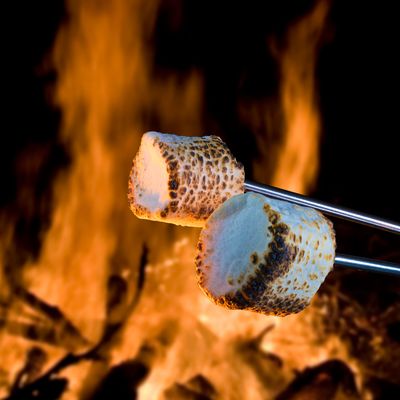 On June 25, two men caught fire in a Sag Harbor Goop store. The biggest question: How?
Photo: Gsagi/Getty Images/iStockphoto
On June 25, two men caught fire in a Sag Harbor Goop store. On this, everyone involved — the brand, the men, witnesses, authorities — agrees. But in the intervening weeks, confusion and conflicting accounts have muddied what initially looked like a straightforward (if wild) explanation: According to the East Hampton police blotter, candles exploded after someone added rubbing alcohol into the mix, leaving the two men with serious burns.
Publicly, Goop has said little about the incident aside from taking pains to clarify that candles were in no way involved. In recent years, multiple customers have complained about Gwyneth Paltrow's vagina candles combusting spectacularly inside their homes. However, Goop would like to make clear that sexy votives did not contribute to the blaze. "There was an accidental fire in connection with a s'mores station at the Goop store recently," a company spokesperson said in a statement to the Cut. "We are wishing a speedy recovery to the two injured parties and are grateful there were no additional injuries. No candles were in use at the time of the accidental fire."
The spokesperson declined to provide any more information about what may have caused the fire or whether rubbing alcohol was involved. But according to attorney Justin Blitz — whose firm, Blitz Law Group, handles personal-injury cases and who is representing the two injured men — that is how the whole thing started. According to Blitz, both men were servers at Little Gem, a New York–based catering company (which, for the record, is owned by Blitz's wife; she confirmed the mens' injuries). Blitz believes they were "bystanders and victims" of an explosion that occurred at a s'mores station set up as part of a Goop party, where customers were roasting marshmallows over a rectangular stone container emitting a row of flames. The Cut has reviewed footage of this device in action, and a quick spin around Amazon reveals a number of similar-looking products that specify isopropyl alcohol as the preferred fuel. This does not seem like a good or safe idea for a crowd, seeing as rubbing alcohol is highly flammable, but it may help explain the following events.
One witness who spoke to the Cut (and asked to remain anonymous) confirmed that Goop was "serving s'mores, which you cook yourself over a little bowl that was filled with liquid flames" in the outside area behind the store. This witness exited the patio just before things went sideways: "About 30 seconds later," they said, "one of the catering staff came running into the party screaming for help — while he was almost entirely on fire, like in a movie." This individual says they didn't see how the fire started, though Blitz cited an account from someone who apparently did. Blitz's witness says he saw someone he believed to be a Goop employee pour liquid into the container. He thought the substance was rubbing alcohol and said that, almost immediately, it shot a fireball into the air, hitting two servers and igniting them on contact. Noticing that one man's head was on fire, this witness allegedly doused him with the white wine he was carrying, which put out the flames. The second server, meanwhile, was reportedly screaming for help as the back of his shirt blazed. Though someone arrived on the scene with a fire extinguisher, Blitz said it appeared to have been the efforts of one of the chefs, who helped get the server onto the ground and smothered the flames with a blanket, that ultimately put out the fire. In the end, both men sustained serious injuries; the one whose back caught fire was airlifted to Stony Brook University Hospital for treatment.
All of this tracks with the explanation Sag Harbor Village police chief Austin J. McGuire offered People on July 8. "I've been doing this for 26 years and I've seen a lot, but nothing like this," he said, explaining his belief that the inferno erupted after a Goop employee poured rubbing alcohol into a candle holder before the flames had completely died out. McGuire indicated to People that one of the event's managers had seen this done on social media, and indeed, TikTok seems to love an "indoor-safe firepit" (igniting containers of isopropyl alcohol to create a mini-bonfire effect).
Again, Goop declined to provide any other details about the fire or its cause. According to Blitz, the damage has been significant, and the men plan to sue: They are out of the hospital and healing, but their burns and scarring are reportedly extensive. "My clients … were there to work a safe event; they were experienced workers, experienced caterers," Blitz said. In his eyes, "the level of responsibility seems clear: It was solely Goop's."