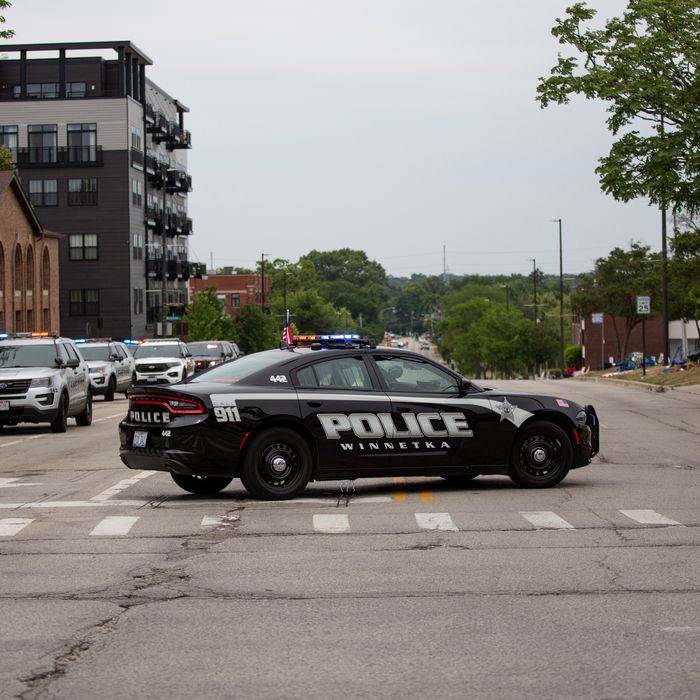 Photo: Jim Vondruska/Getty Images
The annual Fourth of July parade at Highland Park, Illinois, ended abruptly on Monday after a shooter opened fire on the crowd, killing seven people and injuring at least 30 others. The shooter fled the scene, prompting a citywide search, and a suspect, Robert "Bobby" E. Crimo III, was arrested hours later. He has been charged with seven counts of first-degree murder.
Here's what we know so far.
Seven are dead and at least 30 injured after a gunman fired on a Fourth of July parade in Highland Park.
The shooting reportedly started at 10:15 a.m. as the parade was in full swing. Video from the scene shared on social media shows people enjoying the parade and being confused when people in the procession started running. In one video, a person yelling "Shots! Shots!" can be heard in the background as what looks like a school band passes by. A witness told CBS News that the shooting went on for several minutes. "I heard pops. Honestly, I initially thought it was fireworks," Illinois state senator Julie Morrison told CBS. "All of a sudden, a couple women started running back towards us, and then it was almost like a wave of people, and they were crying and screaming. They said there's an active shooter, and people have been shot."
As of Tuesday night, seven people had died — five at the scene, and two in the hospital. Over two dozen parade attendees were taken to local hospitals to be treated for a variety of injuries. Medical director of the NorthShore University Health System Dr. Brigham Temple told the press that 26 patients were treated at Highland Park Hospital — 25 of whom had gunshot wounds — with at least ten other patients going to nearby hospitals for care. Per Temple, 19 of those gunshot victims have reportedly been safely treated and sent home.
The shooter was reportedly stationed on a roof and fired into the parade. Local police recovered "firearm evidence" at the scene, including a high-powered rifle and bullet casings, but the shooter initially evaded law enforcement, resulting in a citywide search. Residents of Highland Park were advised to shelter in place as police worked on identifying and finding a suspect.
Robert "Bobby" E. Crimo III has been charged with seven counts of first-degree murder.
Hours after the shooting, police identified Crimo as a person of interest. He was later apprehended after attempting to flee a traffic stop near Lake Forest. On Tuesday, officials charged Crimo with seven counts of first-degree murder, and he's expected to be charged with more crimes relating to the shooting. According to Lake County state attorney Eric Rinehart, Crimo confessed to the mass shooting. "He went into details about what he had done. He admitted to what he had done," Rinehart told the press. However, he added, "We don't want to speculate on motives right now." Chris Covelli, a spokesman for the Lake County Major Crime Task Force, told reporters that there was "no information to suggest at this point it was racially motivated, motivated by religion or any other protected status."
Crimo reportedly planned the attack for weeks. He's also believed to have dressed in women's clothing and worn a long-haired wig as a disguise to get away from the scene. He was able to leave the parade and walk to his mother's house, where he took her car and left. He reportedly drove to Wisconsin and Chicago, where someone reported him to the North Chicago police.
Crimo told officials that he had considered carrying out another attack in Madison, Wisconsin, as he evaded law enforcement, though apparently it wasn't something he had previously planned. "We don't have information to suggest that he planned on driving to Madison, initially, to commit another attack," said Covelli. "We do believe that he was driving around [after] the first attack and saw the celebration." Police found a gun in his car after his arrest.
Who is Robert "Bobby" E. Crimo III?
Crimo is a local who, according to his uncle, Paul Crimo, lived in a back unit of a home owned by his father, who ran for mayor of Highland Park in 2019. He also had a history with local law enforcement. In 2019, police confiscated 16 knives, a dagger, and a sword from his home after he threatened to "kill everyone" in his family's house. Five months prior to that, police reportedly responded to a suicide attempt. Covelli told reporters that there were no guns on the scene at the time and no charges were filed, but a "clear and present danger" report was filed with the Illinois State Police.
Three months after police confiscated weapons at his home, Crimo applied for a FOID card — a firearm owner's identity card issued by the Illinois State Police — with the support of his father, and was approved in January of 2020. As the Illinois State Police explained in a statement issued on Tuesday, per NPR, the "clear and present danger" report apparently didn't stop Crimo from obtaining a FOID card because "no one, including his family, was willing to move forward on a complaint, nor did they subsequently provide information on threats or mental health that would have allowed law enforcement to take additional action." In the years since getting his FOID card, Crimo has reportedly passed four background checks.
Social-media posts appear to show that Crimo was a Donald Trump supporter. He reportedly posted a photo of himself draped in a Trump campaign flag to Twitter in June of 2021 and shared a video of himself cheering on Trump's motorcade outside an airport earlier that year. He also raps under the name "Awake." According to NBC News, videos posted to his YouTube channel featured "depictions of mass murder."
Crimo is currently being held without bail and is expected back in court on July 28. Though he is not currently facing any federal charges, U.S. Attorney John Lausch said that he was monitoring the case. "We will continue to deploy resources in collaboration with these states and local partners to ensure that individuals who commit horrific acts of violence like this using firearms are held accountable," he said, per CBS News.
Local officials call for stronger gun control in the wake of the shooting.
The exact gun model used in the shooting has not been confirmed, but Highland Park mayor Nancy Rotering said that the gun "was legally obtained" during an appearance on Today. "I think at some point, this nation needs to have a conversation about these weekly events involving the murder of dozens of people with legally obtained guns," she continued. "If that's what our laws stand for, then I think we need to reexamine our laws."
"There are no words for the kind of monster who lies in wait and fires into a crowd of families with children celebrating a holiday with their community," said Illinois governor J.B. Pritzker in a statement. "There are no words for the kind of evil that robs our neighbors of their hopes, their dreams, their futures." Pritzker ended his statement with a call for gun control, saying, "I will stand firm with Illinoisans and Americans: we must — and we will — end this plague of gun violence."
Meanwhile, Independence Day events were canceled in surrounding towns, including Northbrook, Evanston, and Glenview, for fear of more violence.
Two police officers were shot during a Fourth of July event in Philadelphia.
Highland Park was not the only town that suffered a mass shooting over the holiday. As noted by the Times, a 31-year old man died in Sacramento, California, after shots were fired at a club early Monday morning. Another four were injured. Over in Kansas City, Missouri, four people were injured in a shooting following a concert. And multiple other cities across the country reported incidents of gun violence.
Fourth of July celebrations in Philadelphia came to an immediate halt when two police officers were shot mid-celebration. Shots were reportedly fired a little before 9:50 p.m., causing mass panic and chaos, as seen in videos shared to social media. The two officers have reportedly been discharged from the hospital, and police are currently investigating. "We don't know if this was ricochet from celebratory gunfire [or] whether this was intentional," police commissioner Danielle Outlaw told the press, per CBS News.
Philadelphia mayor Jim Kenney also called for gun control in the wake of the shooting. "We will continue to do everything we can to combat our city's gun violence," he wrote on Twitter. "But we are fighting an uphill battle. We are pleading with lawmakers to help us stop the flow of guns into our city." Speaking to reporters on Monday night, Kenney expressed his frustration at the constant threat of gun violence. "The weather was beautiful, the concert was beautiful, but we live in America, and we have the Second Amendment, and we have the Supreme Court of the United States telling everybody they can carry a gun wherever they want," he said, adding that he didn't enjoy big events like the Fourth of July or the NFL draft. "I'm waiting for something bad to happen all the time."
This post has been updated.