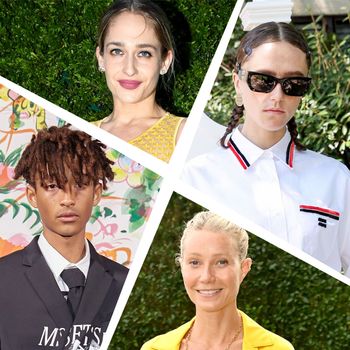 Photo: David Benthal/BFA.com, Courtesy of Kenzo, Yvonne Tnt/BFA.com, Bryan Bedder/Getty Images for Goop
This week in New York: A Miu Miu Tennis Club party, a Gucci party in the Hamptons, and a midsummer soirée for Christian Louboutin. Plus, Goop hosted a dreamy pajama party. It was very hot outside, but all these attendees still managed to look cool.
Best Nip Slip: Jemima Kirke
While attending Gucci's Summer Celebration, hosted by Gucci and Elizabeth Saltzman, Jemima Kirke joined Florence Pugh and said free the nipple! She accessorized her Adidas x Gucci tulle tank top and midi-skirt with a pair of white leather high-heel mules.
Most Elegant: Sophia Roe
Chef Sophia Roe knew exactly what she was doing when she put on this yellow Gucci gown. The elegance is all about the way this dress falls and its slight ruffles at the bottom.
Hostess With the Mostess: Gwyneth Paltrow
Let's call yellow the color of the week: Gwyneth Paltrow is also making our list for wearing the sunny shade. She hosted her Goopglow pajama party in a three-piece satin set, and she looks ready to rock, even if her shoes remind me a little bit of the Grinch.
Ready to Play: Ella Emhoff
Ella Emhoff was ready to swing a racquet at the Miu Miu Tennis Club party in a matching tennis skirt and cropped collared shirt, with her hair pulled back in braided pigtails and clips.
Best Low-Rise: Amalie Gassmann
At the Miu Miu party, Amalie Gassmann made me finally accept the low-rise resurgence when she paired her skirt with higher-waisted Miu Miu underwear.
Best Skirt: Jaden Smith
Jaden Smith is putting his own spin on prep-school chic in his jacket, tie, and pleated skirt at the Kenzo by Nigo U.S. launch party. It's starting to look like the summer of (male) skirts.
Best Corset: Alani Figueroa
In this all-white outfit at the Marvel Kith Spider-Man pop-up event, Alani Figueroa accessorized perfectly, with tall brown boots, a matching brown bag, and big sunglasses.
Best Print: Sasha Frolova
Photographer and actress Sasha Frolova looked effortlessly chic in this Silk Laundry cartoon wolf–print silk dress, which she wore to the label's pop-up launch party.
Keeping It Simple: Minka Kelly
Minka Kelly didn't overthink her outfit at Christian Louboutin's celebration for its Greekaba capsule collection. She accessorized with gold hoops, sunglasses, and a bag from the brand's new line.
Best Mixing of Materials: Igee Okefor
At the same party, Igee Okefor layered a linen suit over a very-unbuttoned denim shirt. I'm obsessed.