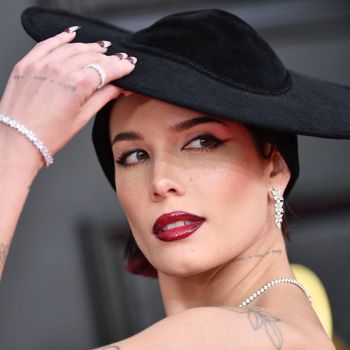 Photo: ANGELA WEISS/AFP via Getty Images
If there's one thing Halsey is not going to do, it's stop advocating for the right to safe and legal abortion. The week after the Supreme Court Dobbs decision overturned Roe v. Wade, the singer shared their own abortion story, publicly committing to stay in the fight.
"I miscarried three times before my 24th birthday," the singer wrote in an open letter published by Vogue. "One of my miscarriages required 'aftercare,' a gentle way of saying that I would need an abortion, because my body could not terminate the pregnancy completely on its own and I would risk going into sepsis without medical intervention." Reflecting on their procedure, Halsey said they "cried" and felt "helpless," adding, "I was desperate to end the pregnancy that was threatening my life."
Halsey, who has been diagnosed with endometriosis, has opened up about their miscarriages before. In 2018, they spoke about the terrifying moment they realized they were having a miscarriage onstage, mid-performance. "The sensation of looking a couple hundred teenagers in the face while you're bleeding through your clothes and still having to do the show, and realizing in that moment… I never want to make that choice ever again of doing what I love or not being able to because of this disease," they recalled during an appearance on The Doctors. 
In part because of their medical history, Halsey was so terrified that something would go wrong when they were pregnant with their son, Ender, they rewrote their will to give explicit instructions on donating their organs. "How funny that while my own heart would amount to nothing more than a series of involuntary movements on an operating table, a beating heart in my womb could mean I couldn't consent to saving my own life," Halsey noted in Vogue. "This is what some people who wish to see the end of abortion rights believe is right."
The singer welcomed their son in July of last year, and said that while some might expect their position on abortion rights to have changed since becoming a parent, the reality was quite the opposite. "In fact, I have never felt more strongly about it," they wrote. "My abortion saved my life and gave way for my son to have his. Every person deserves the right to choose when, if, and how they have this dangerous and life-altering experience."
Halsey is currently on their Love and Power tour, which includes a slideshow advocating for abortion rights and encouraging fans to "be the revolutionaries." During their Arizona stop on June 26, right after the Dobbs decision was announced, the singer spoke directly to the crowd. "Some of the people I'm looking at right now are going to need an abortion one day, and you deserve that," they said on stage, per E! News. "And here in Arizona, you guys gotta promise me that you're gonna do that work so that the person to the left of you and to the right of you has that right for the rest of their lives." They also made it clear that fans who don't support reproductive rights would not be missed. "If you don't like it, you can go home right now. I don't care. If you don't like it, I don't know why you came to a Halsey concert."
Some fans reportedly did walk out of the concert, but the singer stayed true to their word, pushing back on social media against the idea that they were being paid to entertain, not share political views. "No, you paid to see me use a stage as a form of expression in the manner that I choose," they tweeted a few days after the Arizona concert. "Sorry you lack the critical thinking to realize that the rhetorical power of music doesn't always serve your escapism."