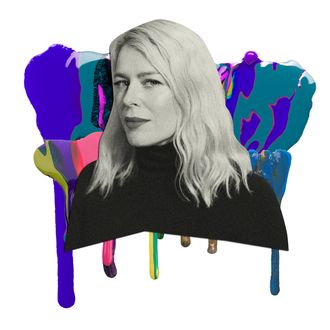 Photo-Illustration: by The Cut; Photo: Heather Hazzan
Amanda de Cadenet has been interviewing big names in entertainment since she was 18 years old when she was a host on The Word, a late-night television show that aired in her native U.K. in the '90s and featured bands like Nirvana and Oasis. By 19, she was married to Duran Duran bassist John Taylor. They had a daughter together and moved to Los Angeles, where de Cadenet began a career as a photographer. Today, she's married to Strokes guitarist Nick Valensi, with whom she has twins. But in the 2010s, she returned to her first love, interviewing people, and launched her own television show called The Conversation on the Lifetime Channel. Her easygoing, empathetic personality allowed her to get everyone from Hillary Clinton to Lady Gaga to Gwyneth Paltrow to open up, and she eventually turned the show into a successful podcast as well.
This year, as part of a three-year deal with iHeartMedia, she will release a new show, About the Men, interviewing high-profile men about contemporary masculinity, and host another podcast with Victoria's Secret called VS Voices. (In 2021, she became a founding member of the VS Collective.) Plus she'll air new seasons of The Conversation. It's a lot to juggle, and on top of all that, she's also the founder of Girlgaze, a platform that connects women and non-binary creatives with different businesses, companies, and brands. One morning from her home office in Los Angeles, de Cadenet, 50, spoke to the Cut about how she gets it done … while also eating paleo granola at her desk since she hadn't yet had time for breakfast. 
On her morning routine:
I have dogs that wake me up at 7 a.m. every morning. They're my alarm, so I kind of count on them. Although recently, I had to interview Matthew McConaughey for my About the Men series, and I relied on them to wake me up because I knew that I had an early Zoom with him, and they didn't wake me up, and I was late for my interview. I looked half asleep, with puffy eyes and my hair was all over the place. I was like, 'I'm sorry, but they usually wake me up.' So the first thing I do is let them out. And then I put my coffee on, and while it's brewing, I do some reading. I have books that I read in the morning that help me to get into a good mind-set. One is called Thriving As an Empath, and it is 365 days of self-care for sensitive people. I am very sensitive, so I read that. I also read Al-Anon literature, which is for people who grew up in alcoholic homes. And by the time I've done my readings, my coffee's ready.
On the importance of her group chat:
I'm in a group text with about 12 women. Every day, everybody checks in. We each share a gratitude list and a fear list. We started it at the beginning of the pandemic and it's continued. It's just such a well of knowledge and inspiration. And the women in it are all different ages, from 70 down to 21. So there's really diverse perspectives. I find it invaluable. We share everything from whatever weird beauty treatments people are doing to super-profound and insightful wisdom. Someone shared a Rilke poem today, for example. It's about being "patient toward all that is unsolved in your heart and try to love the questions themselves." That is one of my favorite phrases from Rilke. Obviously, I interview people for a living, so "learning to love the questions" resonates with me, personally. We want to know what the answer is to everything and we want to fix it and understand it. And sometimes you just can't.
On a typical workday:
I don't start Zooms until 9 a.m. unless it's a European situation because most mornings I'm driving one or both kids to school. They go to different schools in different parts of town, so I could be in the car for two hours. I try not to make calls while I'm driving; I want to be present. My kids have taken to putting their headphones on in the car, so it's not even like we even talk. But you're in the same space for an hour, and it's an opportunity to speak or connect or for something to come up if it needs to. Fridays are the only day that I don't. It's my catchall day for everything that got pushed in the week. And my husband does pickup. When he can't, we have someone who helps us with child care; who basically helps with driving.
I really like being at home because after driving my kids to school, I don't want to be doing more of it. In between Zooms, I can go sit outside. I can go down the street and get some lunch. I do mini-outings during the day, but I'm not living in my car.
I do miss interviewing people in person. You can get so much information from someone just by looking at their body language and from the energy that you pick up from them sitting in the same space as them. But I quite like Zoom. It's easier to preserve energy when you are not in person. When I interview someone, I'm so present; it's like a really intense therapy session. It's a fully immersive experience. And doing it on Zoom is less intense for me, which is a good thing.
On setting boundaries while working:
I used to absorb everything that I was hearing from people. It's taken me many years to be able to hear people's very vulnerable truths and not bring them into my own life in a way that is emotionally dysregulated. I guess I'm just getting better at emotional boundaries. You have to be able to differentiate between where you end and they begin. And I think the more of a sense of self that I have, the less willing I am to give it up. I can empathize with the experience. But I'm not invested in changing the outcome. When I'm invested in trying to fix someone or trying to help them or make something better for them, then I'm in their emotional life. And it's not actually my place to be. As an interviewer, I'm there as a conduit for your story. I'm not there to be your mom or your therapist or your best friend or to try to fix you in any way.
I founded a company eight years ago called Girlgaze, and it was the first time I'd ever run a company. My mental health suffered so severely from the sheer complexity of founding it, raising money for it, and running it. I learned a big lesson: If me and my mental health aren't in a good place, there's no one to run any of it. I have to create a system and a structure that ultimately supports me, otherwise I can't do any of that. It's about moments of downtime and creating boundaries — emotional boundaries, email boundaries, etc. Otherwise you get bogged down and you end up in a mental-health crisis, both of which happened to me.
On staying organized:
Everything is color coded in my calendar because I'm doing multiple things. I'm a photographer; I interview people; I have multiple podcasts; I have shows in development; I'm a mom; I'm a pet owner; I'm a wife; I'm a friend. So in my Google Calendar, each thing has a color. Like, blue is self-care. Red is interviews for one podcast; purple is interviews for another. A woman that I work with named Stephanie is basically the brain of all that structure. It's like Tetris. And I'm a visual person and a tactile person, so I screengrab it and print it out every week. And when I'm really overwhelmed, which I am periodically, I can look at the day and I cross things off and go: You are almost done. 
On techniques she uses when she's overwhelmed:
I'm obsessed with the Insight app. It has meditations from five minutes to an hour long and all different types of teachers for yoga, meditation, self-care, etc. You can just search in the index — "overwhelmed" or "sadness" or "frustration," whatever it is you're feeling — and you can find a talk, a meditation, a tool to help you with that feeling. There are so many resources. I'm also a big advocate for something called the Hoffman Process, and they have an app. I did the Hoffman Process twice, and it was a really life-changing experience. They teach you to be present — to manage anger and frustration and feel sadness without getting overwhelmed. And the app is also filled with tools. So I could be at the airport after traveling for a really long time and I can't find an Uber or whatever, and I'm feeling really overwhelmed. And you can often find me sitting at a restaurant in the airport doing some hand on heart meditation. I've become one of those weird people where you're like, "What is this person doing and why would they do this in public? Like, what is going on? Go home and do that." But I would rather look weird doing some meditation than lose my shit in public.
On building a support system:
It's a hard thing for overachievers to ask other people for help. But it's also about finding people who can help you. Once you get over the discomfort of saying "I need help," you've got to make sure that the person you're asking for help is actually equipped to help you. They might really want to but not be able to or not have the skill set. So I got therapeutic help that was very specific for my burnout issues. And I brought more people into the situation who could take ownership of things that I wasn't able to take ownership of anymore.