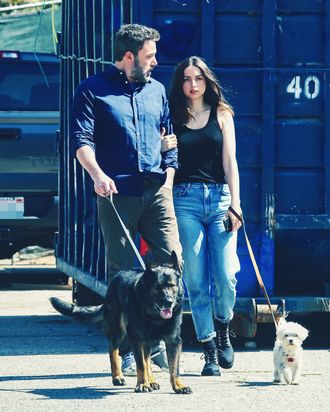 Photo: BG020/Bauer-Griffin/GC Images
Dating Ben Affleck comes with a unique set of challenges. And no, I'm not talking about the Dunkin' diet. According to Ana de Armas, a relationship with the Oscar winner meant constant media attention and paparazzi hounding, things she apparently did not want.
De Armas and Affleck — dubbed BenAna by fans — emerged as the pandemic couple in 2020. Nary a day passed without new photos of the pair walking their dogs on residential streets, grabbing iced coffee, kissing through their cloth masks, or carrying a giant cardboard cutout of de Armas outside Affleck's home. And then, in January 2021, it happened: a breakup. The actors, who met while co-starring in the sexual thriller Deep Water, had split. The cardboard cutout was thrown away, and the world moved on to a new obsession: Affleck's rekindled romance with Jennifer Lopez.
De Armas hasn't spoken much about her relationship with Affleck, and when asked to describe what it was like being in one of the pandemic's most talked-about couples, she told Elle the entire thing was "horrible." In fact, it was so bad it inspired de Armas to leave the West Coast. "That's one of the reasons why I left L.A," she said. "Going through it confirmed my thoughts about, 'This is not the place for me to be.'" She continued, "It became a little bit too much. There's no escape. There's no way out." De Armas's desire to leave L.A. was cited as a reason for the split by People, which quoted a source that claimed, "Ana doesn't want to be Los Angeles based and Ben obviously has to since his kids live in Los Angeles."
Given the very public nature of their relationship, it's a little surprising to hear how much de Armas hated dating in the public eye. It's not as though they tried to hide it. They kissed in a music video and shared photos on Instagram. And who could forget when someone on TikTok accused her of calling the paparazzi to take photos of one of their dog walks? But I suppose even celebrities have to live and learn. De Armas is now reportedly dating Tinder exec Paul Boukadakis, and he hasn't appeared on her Instagram at all.