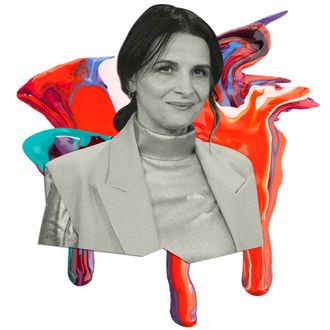 Photo-Illustration: by The Cut; Photo: Getty Images/Yulia Reznikov
Juliette Binoche doesn't believe in resting on your laurels. It's how the Paris-born actress built her standing in art-house cinema at such a remarkable pace, going from adolescent acting lessons to being cast in a film by French New Wave pioneer Jean-Luc Godard at just 19 years old. Only two years later, her star was launched (in her native France, at least) with André Téchiné's erotic drama Rendez-vous — a favorite at the 1985 Cannes Film Festival. It was her role as Tereza in 1988's The Unbearable Lightness of Being, alongside Daniel Day-Lewis, that would establish Binoche as an international star, and in 1996, she won the Academy Award for Best Supporting Actress for her performance in Anthony Minghella's The English Patient, further cementing her status as a globally renowned prestige actor.
The very first winner of the European "Best Actress Triple Crown" (that's Best Actress or its equivalent at the Cannes, Berlin, and Venice Film Festivals), her formidable reputation earned her the press moniker "La Binoche." As an actor, her penchant for complex, emotionally vulnerable characters has since led her to collaborate with a laundry list of celebrated filmmakers including Leos Carax, David Cronenberg, Olivier Assayas, and Claire Denis, with whom Binoche reunited on her latest project, a tense romantic drama titled Both Sides of the Blade (or Fire, but don't let Denis hear you call it that). Binoche, who is also an artist and dancer, tells us about balancing motherhood with the demands of being on a movie set, her favorite chocolat, and the worst advice she's ever received. She lives in Paris. Here, how she gets it done.
On her morning routine:
When I can, I do some exercise. I like to stretch and feel ready for the day, but that's the best-case scenario. I did a lot of Pilates in the past, but now I do more exercises just on the carpet. I walk as well, when I give myself time to. I usually don't have breakfast unless I feel very hungry — I try to do two meals a day. If it's a shoot day, depending on the scene, I start to prepare and think about it emotionally while I'm in the car or sometimes even in the shower. As an actor, you have to be ready to wake up at any time. It can be four in the morning, or if you're starting to shoot at 6 p.m., you'll have to finish at 5 a.m. So there's not a typical day, and because I'm working quite a lot, my rhythm of life depends on my shooting life.
On being a working mother:
During my first pregnancy, I didn't do any films. And I breastfed my son until he was 5 months old. When he was in my womb, I felt I had to slow down because it was tiring for me, but also it felt like it may be too much for the baby. I was very much in tune with what was happening in my body. But I did a lot of painting during my first pregnancy and an exhibition — I have this creative momentum in me that I need to express. I made two films where I had to hide my second pregnancy. Michael Haneke was the director on one, it was called Code Unknown. And he was choosing bigger and bigger garments for me. So I had on that big trench coat. You can tell that I'm pregnant in it, actually.
On managing stress:
I take vitamins, the ones that say they help you with stress. But I think what really de-stresses me is when I work. If I have a scene that's difficult — whether it's because there's a lot of dialogue I've got to learn in English, which is not my first language, or if there's an emotional whatever I need to go through — I calm myself when I involve myself in the work. I also have an assistant who's amazing. We've been working together for 30 years, and when she's around, I know I can count on her, and so that's a very powerful de-stressor. And chocolate has been my best friend for a while. Dark chocolate. With nuts.
On dealing with criticism:
The good thing about maturity is that you learn to not take it as personally. It's hard in a professional setting because you feel so publicly exposed. In a family situation, sometimes I shut down and I don't answer because I feel like it's not worth the battle. But when I can answer, I do, because I feel stronger in a way. We're fragile — of course we're fragile. In all of us there's an intimate part we don't want criticized. But criticism is a good thing because it shows you where you can improve. So it's a wonderful tool, too. But it depends where it comes from. Does it come from jealousy or fear? If you can recognize that it's a genuine, truthful criticism that is going to make you aware of where you can improve and transform, that's an amazing tool.
On the worst advice she ever received:
I was 20 years old. It came from the director of production on one of the first films I had a main role in. He said to me, "Never change." I think it's the most stupid advice because we are changing and we're supposed to change. It doesn't mean you're losing your truth inside of you. On the contrary, you change and discover your own truth, discover who you are. Go, take risks, don't try to be perfect or polite or always doing "the right thing." Just experience life, make mistakes, and transform yourself through them.
On her friendship with director Claire Denis:
The first time I met her, she was a casting director on the Tarkovsky film The Sacrifice. And she was a little disturbed by that casting call because they had asked me to be bare, and she didn't like that at all. Then she asked me to do her first film, Chocolat, and I didn't get into it. I didn't want to do it. For a long time, we didn't work together or see each other very much, but we bumped into each other a little. I thought maybe she had been hurt by it. I thought, Well, I will probably never work with her again. When she asked me to do Let the Sunshine In, it was like a healing proposition. But I enjoy shooting with her very much. I love the way she looks for shots and the way she's living: the act of being free and alive and truthful. I said yes to Both Sides of the Blade before I actually read the script because I knew Claire and I knew the writer as well, who was the same screenwriter on Let the Sunshine In. I was excited by the combination of those two. I wanted to go back to it.
On ambition: 
Paul Auster told me once, "It's not good to have many ambitions, but it's good to have one big ambition with a big A." It stayed in my mind because I thought it made sense. You have to be ambitious for your own transformation. You're responsible for your life and how you choose to live it. I had a real turning point as a young actress when I was in my mid-20s. I felt like I was in such a dangerous place — I almost killed myself in a swimming pool during shooting. When I got back to the surface and saved myself, by myself, I knew during those few seconds going up that I had chosen life. That life was more important than art. That's the only way I can describe what I felt during that moment. But I involve myself as much as I can in my craft because it's so important to give yourself to the people who are spending their time with you or their money to see that moment in a film or play. You have to find the balance between training, preparing, and resting. You have to be the conductor of this responsibility, and your own instrument, which is your body.
On her evenings:
Every day is different, but I'm usually quite active. I still have the general momentum of taking care of things, so I immediately go into What's for dinner? What's for lunch tomorrow? Do I need to grab things or run errands? There's still a mom inside me that is taking care of things. I read more than I watch films, before sleeping. I think it's because the moving image stays in you so much — it's so active. With a book, you get a moment between you and yourself and the excitement of choosing what you're going to be reading. I can watch a film, but I tend to fall asleep during them more easily than before.