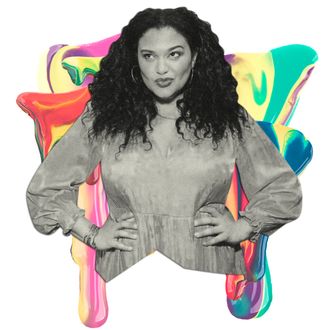 Photo-Illustration: by The Cut; Photo: Gijs van der Most
It's tough to pinpoint which medium comedian Michelle Buteau is best known for. For starters, there's her hit podcast, Adulting, which just returned after a two-year hiatus to answer important questions like "How many pairs of underwear do I pack for a weekend?" and "Should I get a pet turtle?" Her one-hour Netflix special, Welcome to Buteaupia, won the Critics Choice Award for Best Comedy Special last year. Then there's her book of autobiographical essays, Survival of the Thickest, which is becoming a TV series (created by and starring Buteau). She has also hosted The Circle on Netflix and stolen scenes with supporting roles in blockbusters like Marry Me and Always Be My Maybe. Next, she's working on a new movie with Pamela Adlon and Ilana Glazer. (Less glamorous but still notable: She's also in the midst of potty training her 3-year-old twins.)
Buteau talks about planning her schedule, weekly family date nights, and how she tests out new comedy material. She lives in New York City with her husband, two toddlers, and two dogs. Here, how she gets it done.
On her morning routine:
My twins, depending on what monster's come to visit them in the night or what fly has landed on them or whatever else they see in their sleep, wake me up between 5:30 and 6:30, 7 a.m. on a good day. It's usually Hazel first. She was born first. She's always up first. Old man Otis was born second and would love to sleep in, but no, not on Hazel's watch. Or one of my two dogs — big, black, beautiful adopted Lab mastiffs — will wake me up because when they move, it sounds like there's a horse in my room.
My husband and I always tell each other, "Good morning, I love you," no matter what happened the night before. Then we all lay in bed and talk about what dreams we've had.
The rest of the morning is just wrangling. I always feel like that video of a bear trying to get her cubs across the street. I make the kids pick out their eye boogers and brush their teeth. We go downstairs and let the dogs out for a pee. Then we get to their breakfast. It's a conversation: "Would you like this or that?" Because now they like choices, even though they don't have any. My husband will make us beautiful crafted coffees with our overpriced coffee machine. It's his ritual. Then we get everyone dressed and out to day care. They get there between 8 and 8:30 a.m. and stay until 3:30 or 4:30 p.m.
When I'm driving back from day care, I'll do a check-in with at least three to five friends, especially the ones that are single and working a ton. Then, when I come home, it's the morning poop. Let's be honest, it's glorious.
My husband and I usually do a quick sweep of the house because even though the kids have been up for just a few hours — picture the toddler multicultural version of Braveheart — that's what we're dealing with. And because we work from home a lot, it's important to at least try to start the day with standards. We'll try to find the floor, we'll try to find the coffee table. Showers, a workout. I work with a trainer named Irene Bremis who's also in comedy. I've known her for 20 years. She trains a lot of comedians, and she knows how to talk to us.
On managing her work schedule:
I always wanted a job where every day felt different. Growing up, I would see my mom and dad put on their blazers, put on their sneakers, get on the train, go to Penn Station, and join the rat race. Somehow I've curated a life that feels new every day, and that keeps me busy. When I don't have anything to do, that's when it takes me forever to get stuff done. My friend told me, "If you want something done, give it to a busy person." I'm like, "It me." I'm that busy person, and I'll get it done.
I just wrapped my writers' room for Survival of the Thickest. For the last four months, I was going into my writers' room from noon to 4 p.m. every day. Then I'd go pick the kids up, make them dinner, have time with them, and then meet up with my showrunner via Zoom after the kids were in bed to work some more. I never felt like I was burning the candle too much because I still had two and a half hours with the kids two times a day. And believe me, they take it upon themselves to make that time count.
People are like, "I don't know how to make everything happen with kids." All you have to do is plan it and call on your people, whether it's your chosen family, your village, or people you've hired to help you. I want to be able to get everything done but also have enough energy to do it. I ask myself, "Do I have to do it? Can somebody else do it? Does someone else deserve this opportunity?" Also, how do I make sure I have time for dinner with my family, have a date night, and plan a barbecue on the weekend with our quaran-team? I love what I do, and I also want to enjoy life. I want to have that Parisian joie-de-vivre bullshit but also the New York hustle.
On taking care of herself:
My friend Jordan Carlos told me, "When you become a parent, you need to learn to parent yourself," and I'm really thankful for that advice and his friendship. It's rare to find another working comedian who's married and has a dog and a mortgage and kids. I have to parent myself when I get snippy because I'm tired and everything's a mess. Eating a family meal, it feels like you're at Dave & Buster's on a Sunday — everything is all over the place, and it's so easy to lose your shit. So I check in with myself and give myself a time-out. I book a massage every Wednesday morning. I put myself on the docket. I'll be like, "Sorry, I can't make that meeting. I'm getting a manicure and it's going to be gel, so I'll be gone for a while." It sounds so trivial, but when you are doing a lot of things and still trying to take care of people, you've got to take care of yourself.
On asking for help:
I'm about to start filming a movie with Ilana Glazer and Pamela Adlon, and I'm still doing rewrites on my show and trying to potty train 3-and-a-half-year-old twins. There's been some moments of overwhelm, and I've realized in the last two weeks that what really gets to me is housework. I had dreams of trying to match socks. That's not okay. I should be dreaming bigger. So I told my husband, "I need more help." He's like, "Okay, great," and he did some research and found an amazing website that does a housekeeper-nanny thing. So for five hours a day, we're going to have somebody come in and just help.
On brainstorming ideas:
I have little comedy notebooks, and I also have notes in my phone, and I'll write on my laptop for longer stories. Then I also have stuff in the back of my head that I'll run by a friend or my husband. I'll be like, "Is this an overshare or is this an important share? Does this make you want to hear more?" And sometimes I'll try stuff that I've been thinking about when we do live shows for Adulting. That's what I love about podcasting, especially doing live shows, because you have this safe space to be like, "You know what happened to me today? This." And later you can edit it.
On her evening routine: 
I don't know why my husband and I act like we're empty nesters after the kids go to bed, but we're always like, "Ooh, what should we do?!" We do the dishes, we have a little crafted cocktail that my husband's made, and then we watch TV together. Sometimes I write when we're watching TV. And then we're in bed by 9:45 and we cuddle. This sounds stupid, but touching each other is important because otherwise you forget.