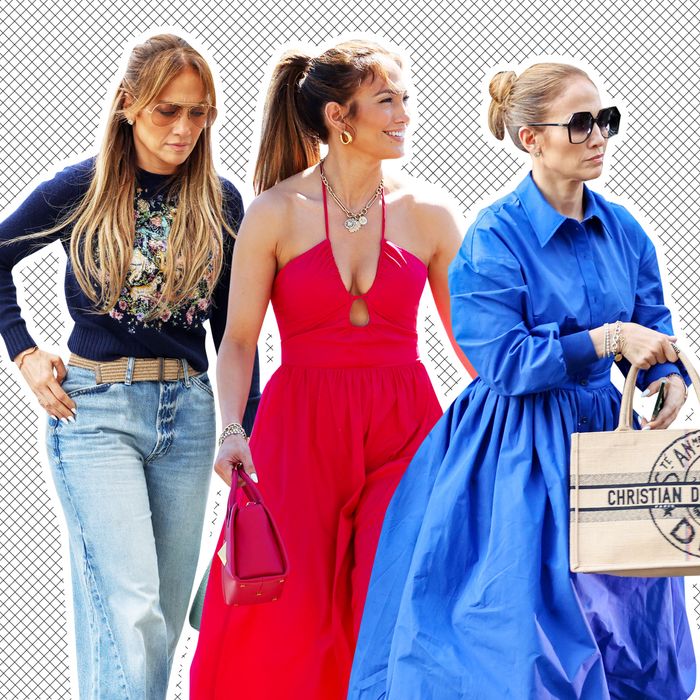 Photo-Illustration: by The Cut; Photos: Getty Images
It's J.Lo's personal Fashion Week in the city of love. After marrying Ben Affleck in Las Vegas on July 16, the couple decided to spend their first moments of married life with the Eiffel Tower as their backdrop.
They had a low-key wedding, but high-key honeymoon. We rounded up and ranked some of Mrs. Jennifer Lynn Affleck's best looks from the celebrity honeymoon that never ends.
The Very Best: J.Lo Being J.Lo
No one can resist a Reformation dress, even Lopez. She opted for this $278 midi dress with a halter neck and cutout detail in the perfect summer color as she and Affleck took a stroll near the Louvre on Sunday. This bright, formfitting look is so J.Lo, who looks like a vision, even if her husband looks like he really needs some water.
The Best: Rich-Mom Casual
There's a heat wave plaguing Europe right now, so I have some questions about this outfit Lopez wore stepping out of Le Crillon Hotel on Tuesday. Regardless, there's so much going on here that I applaud, like those super-high velvet platform heels and her mint-colored Birkin bag. Lopez is a mom, but she's a cool mom!
The Next Best: Floral Nightgown, But Make It Chic
There's something about being a newlywed that just makes you want to wear florals. J.Lo wore this gold-accented gown for a night out with Affleck on Saturday, and while the puffed sleeves and high neck are a little bit reminiscent of a nightgown, Lopez still looks like royalty. Kim Kardashian is shaking right now.
The Just Okay: Boxy Blue Dress
J.Lo wore this blue Alexander McQueen shirtdress on Monday and accessorized with a Dior tote bag and sunglasses. In a pair of ballet flats and a slicked-back bun, J.Lo reminds us all that she used to dance.
Celebs, They Are Just Like Us (But With Hermès)
Today, Lopez stepped out of her hotel in tailored boot-cut jeans and a white long-sleeved shirt, an outfit I've put together for a day on the town — minus the Valentino belt and Hermès Kelly bag.
Reformation, Again
J.Lo wore not one, but two Reformation dresses on her honeymoon. She accessorized this floral midi dress with a brown Gucci bag with bamboo handles and Saint Laurent shoes. This outfit was perfect for boating on the Seine, and apparently for napping too.
In Her Sheer Era
The thing about this ranking is that even the worst look looks good. It's Leo season, and Lopez, famously a Leo, is going to shine. This look reminds us the most of the last time J.Lo and Affleck were together. In a sheer pink top and skinny jeans, Lopez is ready for whatever the day brings, even if it's her husband crying at dinner.
J.Lo's Reformation Honeymoon Dresses