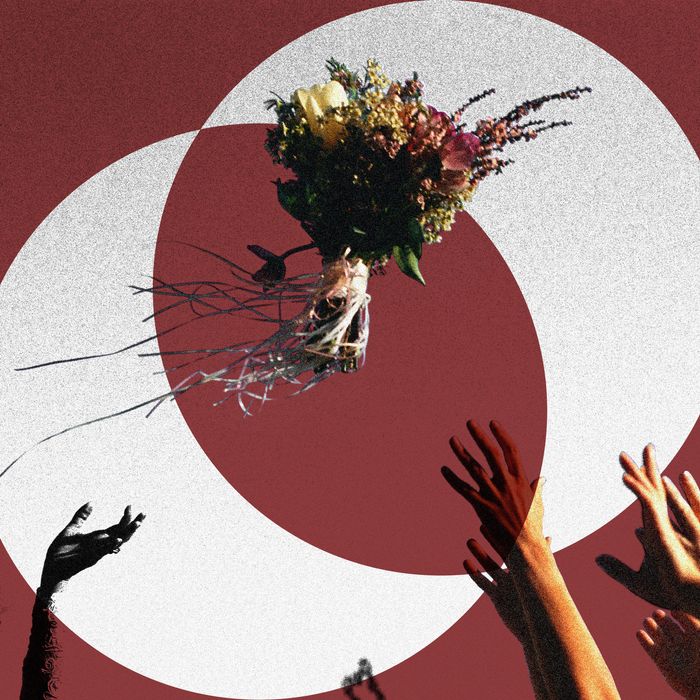 Photo-Illustration: The Cut; Photos: Getty
When I asked Becca E. how many weddings she's been invited to this year, she pulled up a Google spreadsheet. The 33-year-old, who lives in New York City and works in ad tech, began counting the rows, which were organized by columns filled with details like hotel reservations and whether or not she'd bought a gift yet: "14, 15, 16 …" The total number was 17, plus four bachelorettes. From July through September, she will be attending at least one wedding every other weekend — ten in total this year. Many are local, but she's also gotten invites to weddings in Peru, Egypt, Serbia, Italy, and England. Her boyfriend is British, so they're going to the one in London. She would go to Italy, but she has another wedding back home that Friday. (She introduced the bride and groom, she explained, so she can't miss it.) As for Peru, she's still on the fence, but only because she has weddings the weekend before and after. Sadly — and regrettably — Egypt was a pass. "I was like, I can't go to Egypt for a weekend," she said. "Turns out, that was a huge mistake; it was apparently an epic wedding."
It's not uncommon for those in their late 20s to early-to mid-30s to find themselves in a deluge of save-the-dates — some, of course, more than others. But 2022 is a different beast — a boom year for nuptials, an apparent aftereffect from the pandemic. According to the Wedding Report, roughly 2.5 million weddings are expected to take place this year, compared to 1.93 million last year. It would be the highest number on record since 1984, when boomers reached marrying age. Some are weddings of couples who got engaged in 2020 and haven't been able to celebrate since. Some were fast-tracked by lockdown. Others are just ready to tie the knot. And thanks to Instagram, I feel like I'm personally attending all of them. Since Memorial Day, my feed has been a constant stream of wedding content. But it's only the beginning. "I'm so tired," said Becca of her wedding marathon with a laugh. She's only two down, over a dozen more to go.
Becca isn't alone. When Zola, a wedding-planning website, conducted a survey of more than 2,500 wedding guests, they found that people are attending four weddings and seven wedding-related events on average this year. Once I started asking around myself, it was surprisingly easy to find those with ten or more invites. Bria S., 30, a product manager living in New York, has received 13 so far, and committed to ten — maybe 11. In June, she had four weddings in a row, starting in Spain, with a detour at the Jersey Shore, and ending in Germany. To get through it, she's treating this marathon wedding season like an actual marathon. "Everyone is like, 'Let's grab a drink Wednesday!' and it's like, 'No …' because I have a wedding Saturday," Bria said of her training regimen. She also suggested packing hydration tablets.
Cydney P., a dietitian from Toronto, has received 12 invites and is going to all of them because they're local. She's even doing two in the same day. "In June, I had a wedding on a Thursday and then I went to Vegas Friday morning for a bachelorette. And then in July, I have my best friend's bachelorette from Thursday to Sunday, and then I fly home early to go to another best friend's wedding Sunday night. It's my whole life. This is all I do."
As a 30-year-old who thought she had a decent number of friends, I feel lame with only one wedding weekend on my own Google cal this year. How does a person even get asked to attend so many nuptials? Some obvious theories: being in a relationship (double the invites). Having a big family. Maybe you've stayed in close touch with old friends thanks to social media. Maybe you're a part of a sorority or fraternity. Or, maybe, like Becca, you've just got a lot of really good friends. None of her wedding invites are from family this year, and only five out of 17 invites are her boyfriend's. She was in a sorority, but that only accounts for one.
"Only one of these weddings I'm going to this year was pushed back from 2020," said Rebecca A., another product manager in her early 30s who received 13 invites, and is attending 11 weddings. The rest are friends who got engaged this year and last. "It seems like since the pandemic, a lot more people are shortening their planning timelines and having their weddings a lot more quickly," she offered as another explanation.
With so many invites, though, not everyone can say yes to everything. It can make RSVPing a fraught process, confessed the wedding guests I spoke with. "It really hurts," said Becca. "Some of these people are very good friends of mine, and I have to say 'no.' If there wasn't another wedding that weekend, I would 100 percent be there."
Relationships to the person/persons, distance, and familiarity with the location can be deciding factors. And, of course, cost of it all. The Zola study found on average people spend $593 to go to a wedding by car and $1,314 by plane. So you do the math. According to the handful of people I surveyed, ten or more invites can mean spending anywhere from $5,000 to $20,000 in a year, depending on where the weddings and bachelorette parties are taking place.
"My boyfriend and I have pretty much had to play price arbitrage," said one 30-year-old I spoke to, who was invited to 12 weddings this year and preferred to remain anonymous. "We have an Excel spreadsheet where we price how much each wedding costs and which ones we can go to. It's like, 'Okay, this is your distant friend from college, but you also work together and he's getting married in Mexico City in September. Do we do that, or do we do this other wedding off the coast of Seattle where we'll have to take a seaplane, which is $300 a person?' It's kind of strange to put a price tag on the friend that's getting married. But at the same time, flights are expensive right now."
Rebecca has managed to save on travel costs by being what she describes as "shameless" about asking if she can crash at friends' places nearby to weddings, even if it means being her own designated driver. She's split hotel rooms with friends when that wasn't an option. Others said they've put personal vacations on hold for the year and said no to most bachelorettes.
"Resources are limited, so this year I'll have less time and money to take some trips that I've been putting off since before COVID, which is a bit of a bummer," said Rebecca. "While I'm sure I'll have fun celebrating with my friends, this does mean that I have to miss out on other things that are happening this summer, like family reunions, and more chill weekends away."
Of course, there's more to the final bill for guests than just getting there — do you still have to buy a gift if you can't attend? Do you split it with your partner, even if it's their friend? If it's a destination wedding, is your attendance enough?
When it comes to dressing up for the occasion, most women I spoke to were proponents of repeating outfits, as well as borrowing dresses and accessories. "It can be more economical to Venmo your friend to ship the dress, get it dry-cleaned, and send it back to them than it is to buy something new," suggested Bria. Others said they signed up for Rent the Runway. One friend said she started sending links around to other friends who wear a similar dress size about doing a Sisterhood of the Traveling Pants–type exchange.
Even men are getting slammed. Liam G., a photographer in his early 30s living in New York who has nine weddings to attend this fall, said he's had to buy a few different suits because he's a groomsman at one ceremony, and the other events he's been invited to are taking place in various climates. "Also … I gotta wear different 'fits to get the wedding flick off," he added.
It's a lot for someone else's big day — too much? The answer is probably yes, but for many guests, it feels worth it. "After the pandemic, I want to celebrate love and be around people," said a friend with over ten invites. "It feels really great. There's also a certain amount of hope associated with weddings, and I do genuinely enjoy going, but it can also be exhausting."
"What I've come to realize is that nobody cares if I'm at their wedding," said Becca. "People just want to get married at this point. So many of these weddings were postponed from COVID. There are so many other people there. I mean, the bride and groom care. But not that much. So for me, it's now just figuring out, Is it something that I feel like I would get joy out of?"
The thing is, she's the kind of person who gets joy out of most weddings, which might ultimately explain why she is the recipient of so many invites in the first place.
"I really do love weddings," she admitted. "I'm never bitter about it. I'm first on the dance floor and last to leave. I have a glass of water between every drink, and always make it to the after-party. And I love to try the cake!"
Ironically, though, it's changed her perspective on her own future nuptials: "The funny thing about all this is that I don't want to have a wedding," she said with a laugh. "After seeing my friends go through all the planning, I'm like, 'Nope, this is my worst nightmare.' I love how happy they are and that I get to see all my friends together. And maybe my opinion will change in the future. But I'm sort of like, This is great, and I'm so glad I get to enjoy this wedding on behalf of my friends."
Next year, she's already committed to seven.