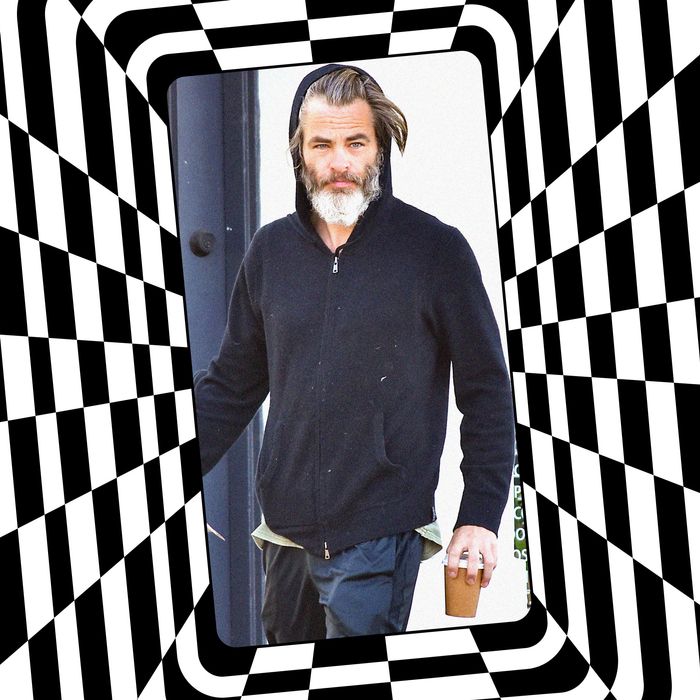 Photo-Illustration: by The Cut; Photo: Getty Images
Let us begin in the manner that all writings on any Hollywood Chris must begin: I have not gathered you here to discuss the merits of Chrises. I encourage zero discussion about which Chris is the best Chris, be it Hemsworth, Evans, or, God forbid, Pratt. It isn't a competition. Because Chris Pine is winning.
Case in point: his summer wardrobe. Every few weeks, as I take my daily doom-scrolling lap around the internet, I am greeted by a new picture of Summer Chris. Each outfit is a beacon of light in what is otherwise our darkest timeline. Most recently, he was photographed in what can best be described as a dalliance with the coastal grandmother aesthetic or, more succinctly, Diane Keaton cosplay. In these photos, Chris Pine is wearing pleated gray trousers, a long-sleeve black-and-white-striped shirt, a red bandanna, with a Nikon camera around his neck, white Oxford shoes, and a silly little hat. His face? Bearded. His hair? Flowing carefree past his shoulders. (It's unclear whether the hair, beard, and general ensemble have anything to do with his character in the movie Poolman, which he's currently filming. I choose to believe he has dressed this way of his own volition.) Although some may insist he is "unrecognizable" in this state, warning us that we should "prepare to gasp" at his new look, I am of the firm and correct opinion that this is the Chris Pine I have come to know and love best.
Chris Pine's style has been consistently eclectic and impeccable. This is likely in great part thanks to sister stylist duo Wendi and Nicole Ferreira, who have also recently been styling Seth Rogen. We've gotten Chris Pine in striped maroon pants and an embroidered top. We've seen him in leggings and loafers. He's done an all-orange outfit, denim on denim, even a leopard-print-and-Birkenstock combo. Remember that time Chris Pine wore a caftan? I do, because it is my phone background. And? He's literate.
If his status as a fashionista hasn't swayed you, allow me to indulge you with some of his other accolades:
Chris Pine's only flaw is that he is, in fact, a nepotism baby. His parents were actors, as were two of his grandmothers. Of course, your given name can't be Christopher Whitelaw Pine without some generational wealth. Don't worry, Chris. I won't fault you for this so long as you continue to dress like a divorcée on vacation.