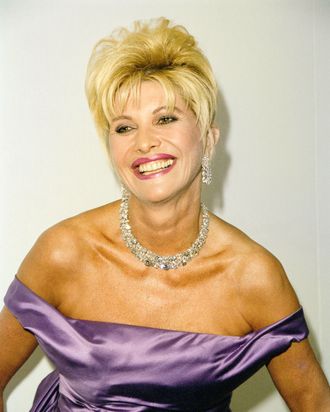 Photo: Dave Benett/Getty Images
Ivana Trump, businesswoman and ex-wife of Donald Trump's, died on Thursday at 73 at her home in New York City.
The former president announced her death on Truth Social, the social-media platform created by his tech company. "I am very saddened to inform all of those that loved her, of which there are many, that Ivana Trump has passed away," he wrote. "She was a wonderful, beautiful, and amazing woman, who led a great and inspirational life."
ABC News confirmed her death, reporting that she died of cardiac arrest.
Trump, née Zelníčková, was born in Czechoslovakia in 1949 and moved to Canada in 1971 after marrying a friend and ski instructor in order to leave communist Czechoslovakia. She met Donald Trump in New York in 1976 and married him the following year. Ivana worked by her husband's side as part of the Trump Organization, at which she oversaw the interior design of many projects, including Trump Tower. In 1985, she became the CEO of Trump's Castle casino resort in Atlantic City and managed the Plaza hotel after Donald bought it in 1988. Throughout the '80s, she and Donald became fixtures of New York's social scene, establishing themselves as an iconic power couple.
Ivana and Donald had three children together: Donald Jr., Ivanka, and Eric. They finalized their divorce in 1992 following Donald's affair with Marla Maples and a well-documented legal battle over their prenups. After her marriage, Ivana launched several business endeavors, including clothing, jewelry, and beauty lines, and an advice column for Globe called "Ask Ivana." She also published four books, including a self-help book and a 2017 autobiography about raising her children with Donald.
According to Ivana, she and her ex-husband remained on good terms during his presidency. She said in 2017 that she had a "direct number" to the White House, calling herself "First Lady." In 2018, she dismissed the controversy regarding her husband reportedly calling several African countries "shitholes," saying that he "says things that are silly" but is "definitely not racist."
In a statement, the Trump family called Ivana "a force in business, a world-class athlete, a radiant beauty, and caring mother and friend." The statement continued, "Ivana Trump was a survivor. She fled from communism and embraced this country. She taught her children about grit and toughness, compassion and determination."