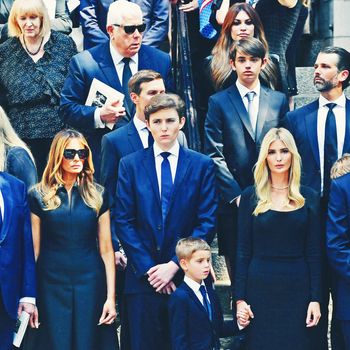 The Trumps outside Ivana's funeral in Manhattan
Photo: GWR/Star Max/GC Images
Many members of the Trump universe descended on Manhattan yesterday for the funeral of the ex-president's ex-wife Ivana Trump (née Zelníčková). Ivana died on July 14, reportedly from blunt-impact injuries she sustained in an accidental fall in her Upper East Side townhouse. She was 73. According to WWD, her funeral brought about 400 people to the Church of St. Vincent Ferrer, including her second husband, Donald Trump, and their three children: Ivanka, Eric, and Don Jr.
Despite the cloud of Congressional hearings hanging over the family — for months, a House committee has been probing Trump's involvement in the January 6 Capitol insurrection, with Ivanka testifying (to self-protective effect) in June — the focus remained squarely on Ivana's influence on fashion, a certain era of New York Society, business, and according to WWD, sports. (Did you know that in her pre-Trump life, Ivana was a competitive skier?) Underscoring her impact, a blown-up Vanity Fair cover from 1992 — featuring a beehived Ivana in a party dress, beaming alongside the headline "Ivana Be a Star!" — sat at the front of the church. According to Variety critic Daniel D'Addario, whoever prepared the mock-up appeared to have edited out mention of another of the issue's stories, about Hillary Clinton's presidential aspirations. Based on the eulogies, it seems safe to assume Ivana would've wanted it that way.
In his remarks, Eric remembered his mother once declaring of his father, "That man will make a great blanking president. You just watch that." Ivana married Donald in 1977 and went on to become the CEO of Trump's Castle casino resort (now a Golden Nugget) in Atlantic City and to manage the Plaza hotel. The couple divorced in 1992, but "they loved each other," Eric said, and "they respected each other and they fought for one another in ways that most people could never imagine. He had her [third] wedding at his house," by which Eric meant Mar-a-Lago. "How cool is that?"
"She had brains, she had beauty, and she had grit," he said, per the New York Times, claiming that she conquered the "hearts and minds of every single person in the U.S. on the Home Shopping Network and QVC" and "still holds every single sales record."
Elsewhere in the eulogies, Don Jr. recalled his mother's tenacity, purportedly the product of her upbringing in Soviet Czechoslovakia, and also the time she beat him with a kitchen utensil after Ivanka blamed him for damaging an expensive chandelier she'd hit with a beach ball. "There was nothing that she could not achieve, no obstacle that she could not surmount," he told mourners of his mother. "And she knew it because that's the way she was raised." As for the chandelier episode and its "wooden-spoon remedy," Don Jr. remembered how things escalated when he tried to explain he wasn't involved: "Now I was also lying to her, which was much, much worse. By the time she figured out it was in fact not me, my bum was red yet again and she was too tired to deal with Ivanka."
Speaking of, Ivanka's memories highlighted Ivana's importance as a woman who worked. Ivana presided over multiple personal brands — including beauty, clothing, and jewelry lines — published four books, and for a time authored an advice column. Ivanka called her mother a "trailblazer, admired by men and women alike," adding, "She was the queen of Manhattan in the '80s and reigned not just over galas but also over work." But there was fun, too. "She would often chide me that my miniskirts weren't mini enough," Ivanka said. "'Flaunt them while you've got them,' she would always say." Ivana loved a party, and "now, she's watching us from above, telling us to dry our eyes, have a good time and dance one more song for her," Ivanka continued. "Mom, I love you today, every day."
Per the Times, some speakers took a darker tone, nodding to Ivana's later years and growing isolation. Dorothy Curry, once the nanny to the adult Trump children, reportedly said that her "former employer's field of dreams became a 'sinking swamp' of 'parasites' who had kept her 'afloat' with 'illicit dreams and schemes.'" But designer Dennis Basso, who dressed Ivana for years, opted to focus on her glitzy socialite years. "This is tragic," he said, per WWD. "I could go sad, melancholy and then I thought, That's not possible. My good friend up there is saying, 'Go fabulous.'"
Her golden coffin was reportedly taken from the church to Trump's Bedminster, New Jersey, golf course for burial.