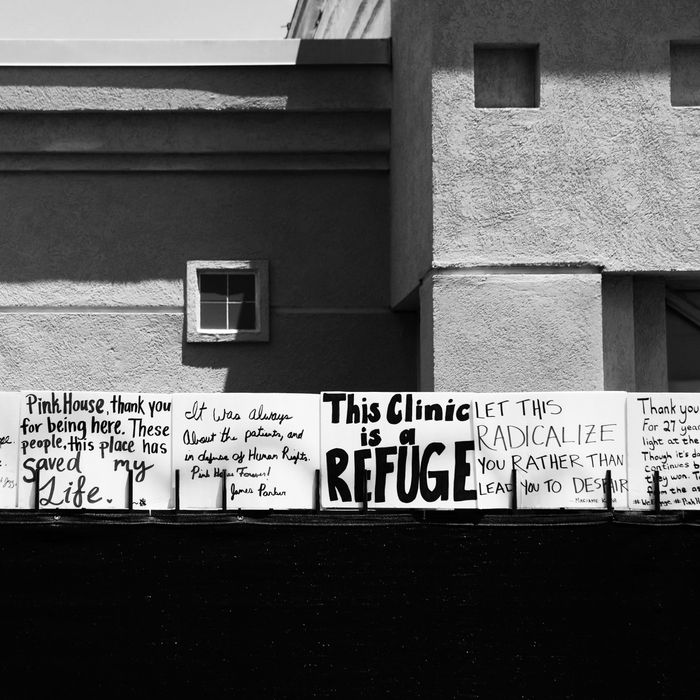 Photo: SANDY HUFFAKER/AFP via Getty Images
On Wednesday, Jackson Women's Health Organization, the Mississippi clinic at the center of the case that overturned Roe v. Wade, performed its last abortion. Mississippi has had a trigger law on the books since 2007, and following the Supreme Court's ruling in Dobbs v. Jackson Women's Health Organization, the state's attorney general Lynn Fitch certified a total abortion ban that makes exceptions only in the case of rape and danger to the mother's life. On July 6, following a ten-day waiting period, abortion was officially banned in the state. Mississippi's only clinic, also known as the Pink House, performed abortions until the last moment.
"We knew this was coming," Diane Derzis, Jackson Women's Health's owner since 2010, told NPR. Derzis now plans to open Pink House West, a new clinic in Las Cruces, New Mexico, which is less than an hour's drive from El Paso, Texas, yet has drastically different abortion laws from its neighbor. Before closing, Jackson Women's Health had been providing abortions to those seeking care outside of Texas following the state's six-week ban passed in September. Derzis says that for an increasing number of pregnant people in many parts of the country, the future of abortion care will require traveling — a time-consuming and expensive logistical hurdle that will disproportionately harm lower-income people.
Since the Supreme Court's ruling, clinics in states hostile to abortion have been forced to pause or stop care completely as trigger laws go into effect and legal activists and health-care providers file challenges. As of July 7, abortion is completely banned with limited exceptions in Texas, Oklahoma, Arkansas, Missouri, Alabama, South Dakota, and Mississippi. Legal challenges have been filed in a number of states trying to ban abortion, including Arizona, Florida, Idaho, Kentucky, Louisiana, Michigan, Ohio, Oklahoma, Texas, Utah, West Virginia, and Wisconsin.
As the post-Roe fallout continues, more than a fourth of abortion clinics across the United States could shut down, according to a study from University of California San Francisco's Advancing New Standards in Reproductive Health. Some clinics shuttered even before the ruling officially came down, including all three of Louisiana's abortion clinics as well as South Dakota's sole provider. A 40-year-old clinic in Savannah, Georgia, closed within a week of the decision. Whole Woman's Health, which has clinics in four locations across Texas, has also closed with plans to open a new clinic in New Mexico.
If you'd like to help those in need of abortion care, donate to an abortion fund. The Cut's abortion-finder database has more information on how to find abortion services near you.