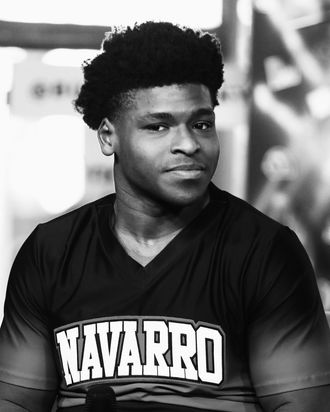 Photo: Jim Spellman/Getty Images
In December 2020, Jerry Harris, beloved by fans of Netflix's Cheer, pleaded not guilty to seven federal charges related to child pornography and sexual acts with a minor. More than a year later, Harris reversed course and pleaded guilty to two counts. On Wednesday, Harris was sentenced to 12 years in prison on guilty pleas, NBC News reports.
Harris, 22, was originally arrested in 2020 on suspicion of possessing child pornography after twin brothers filed complaints alleging that Harris solicited naked pictures from them when they were 13 and asked one of them who he met at a cheerleading event for oral sex. Federal authorities brought charges against the Cheer star a few months later, and he has been incarcerated since. He appeared in court in February and pleaded guilty to a count of receiving child pornography and a count of crossing state lines to engage in a sexual act with a minor, NBC News reports. Prosecutors originally sought a 15-year sentence for Harris, arguing in Wednesday's sentencing memorandum that he used his "status as a competitive cheerleader, his social media persona, and eventually his celebrity and money" to pressure his victims into sending him sexually explicit content and alleging that he "threatened to disseminate the videos" if they refused.
Fresh off his newfound fame at the time of his arrest, Harris initially denied the allegations against him. Through a spokesperson, Harris released a statement that said, "We categorically dispute the claims made against Jerry Harris, which are alleged to have occurred when he was a teenager." The allegations against Harris took place over three years, beginning in 2017, when he was 18. Despite his statement to the press, Harris had reportedly already admitted to investigators that he knowingly solicited and received nude pictures from other minors.
As Harris fought the charges in court, Cheer distanced itself from him. The show dedicated a season-two episode to giving the twin brothers, Sam and Charlie, a platform to tell their stories. In the episode, Sam said that he was 13 when Harris first messaged him on Instagram and solicited nude photos from him. Both brothers said Harris contacted them to request sexual images and videos, and sent some of his own via Snapchat and Instagram.
After Harris entered his guilty plea in February, his attorney, Todd Pugh, said in a statement that Harris did so "because he wishes to take responsibility for his actions and publicly convey his remorse for the harm he has caused the victims in this case." Pugh added that Harris himself was a victim of abuse. "Jerry was himself exploited, manipulated, and sexually abused as a child within the Cheer Community in a way that perversely made him believe that this sexual conduct was somehow normal when it was not." According to Pugh, Harris has been in therapy since his arrest.
Per NBC, Harris's prison sentence will be followed by eight years of court-supervised release. He reportedly apologized to his victims in court on Wednesday. "I am sorry for all the trauma my abuse has caused you," he said. "I pray that your suffering comes to an end."