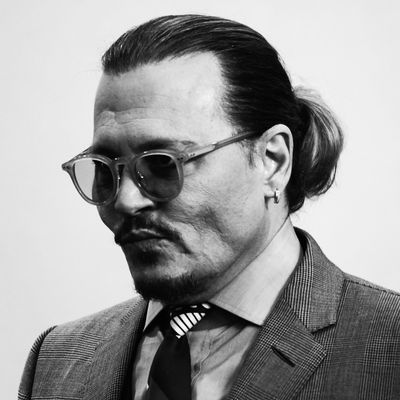 Johnny Depp
Photo: ELIZABETH FRANTZ/POOL/AFP via Getty Images
Johnny Depp has settled with the man accusing him of assault, meaning that if the actor holds up his end of their bargain, the case may never go to court.
For some (me), this news that we are not doing another trial may feel like a welcome reprieve: Depp won a defamation suit against his ex-wife Amber Heard on June 1, a case that exhaustively relitigated their turbulent relationship but was actually about a few purportedly libelous lines in an op-ed Heard wrote for the Washington Post in 2018. This next lawsuit stems from an incident on the set of City of Lies that allegedly occurred in 2017: Location manager Gregg "Rocky" Brooks said a seemingly drunk Depp punched him twice after Brooks tried to shut down filming for the day. Depp denies this, and proceedings were set to begin on July 25 in Los Angeles County Superior Court. For now, the start date has been pushed to January 5 but will only go to trial if Depp doesn't fulfill the settlement.
Here's what to know about the case.
Who is Gregg Brooks?
A location manager who worked on City of Lies, which Rotten Tomatoes describes as a "compelling crime-thriller" about the investigation into the Notorious B.I.G.'s murder, in which Depp played an LAPD detective. The movie is based on the book LAByrinth, by Randall Sullivan, and was supposed to come out in September 2018, only the film's distributor pulled it at the last minute. The distributor did not clarify the reason for the drop, but it did happen shortly after Brooks filed a lawsuit against Depp, the director, and Depp's production company, complaining that Brooks had been fired after Depp attacked him on set.
What does Brooks say happened?
Brooks alleged that in April 2017, he told Depp filming had to shut down one night because — according to Us Weekly — their already extended city permits had run out. Brooks said Depp exploded at him when he delivered the news, shouting: "Who the fuck are you? You have no right to tell me what to do!" Brooks claimed that Depp (whose breath allegedly "reeked of alcohol") then punched him twice in the ribs, before bellowing at him: "I will give you $100,000 to punch me in the face right now." He allegedly "continued to scream and berate him in front of a set full of people until Depp's own bodyguards physically removed Depp from the scene."
When Brooks returned to work a few days later, he said, a producer asked him to sign a document promising he would not sue. Brooks declined and claimed he was fired. He then sued for assault and battery, intentional infliction of emotional distress and negligence, and damages. He says it has been difficult for him to find work since word of the incident got around, and his lawyer Pat Harris told Variety: "We obviously recognize that in the hierarchy of Hollywood, Johnny Depp is on top and the location managers are somewhere mid-level or toward the bottom. In any confrontation between the two of them, no matter who started it, no matter who's responsible, Johnny Depp is going to come out on top and our guy is going to come out damaged."
What does Depp say?
Depp's attorneys have offered a few slightly different explanations of how the incident unfolded. In a 2018 statement to the Wrap, Depp's lawyer Adam Waldman said: "Despite false media reports suggesting otherwise, Johnny Depp never touched the person suing him, as over a dozen witnesses present will attest. In a court filing we have generally denied all claims and we will fight these latest sham allegations." (It is maybe worth noting that, in Depp's last trial, the jury found a claim Waldman made about Heard to be defamatory.) In filings responding to Brooks's lawsuit, Depp's counsel claimed that the actor was "provoked" and acted in self-defense. An excerpt, via the Wrap:
The acts complained of by Plaintiff were provoked by Plaintiff's unlawful and wrongful conduct in that Plaintiff willfully and maliciously acted out and conducted his activities in such a manner as to cause, Defendant Depp to fear for his safety, and according to Defendant Depp's observations, Defendant Brad Furman [the director] for his safety.
Further, the filing blamed Brooks's "own carelessness, recklessness and/or negligence" for the alleged confrontation. Taken altogether, it sounds like Depp's team is saying that the actor didn't punch Brooks but also that Brooks brought his injuries on himself when he forced Depp to defend himself.
Were there any other crew members around who might be able to confirm or deny these conflicting accounts?
There were, and a few of them spoke with the Daily Beast. "They had a little moment, there weren't punches, there wasn't anything, just were in each others' face for a second," script supervisor Emma Danoff told the outlet, saying she was sitting next to Depp when the argument started. "We shot for maybe another hour and a half after that; we went inside. We finished and the locations guy came up to Johnny and they hugged and it was all cute and that was it." (According to Variety, Brooks said in a deposition that he and the actor "hugged it out" and posed for a photo together after the altercation.) Three other crew members reportedly confirmed Danoff's statement, though Brooks's lawyer "vigorously" refuted it. "[My] client was punched," Arbella Azizian told the outlet. "He was punched twice in the rib cage and this was witnessed … I suggest you use a different source to get a more accurate assessment of what happened on set."
When was the trial supposed to begin?
Depp was scheduled to return to court on July 25. It wasn't clear whether he would testify, though these proceedings were supposed to include some now-familiar names: Camille Vasquez, the breakout star of Depp's defamation trial, signed up to represent him a second time. The witness list reportedly included a number of the actor's employees and associates who testified in his case against Heard: Depp's sister, Christi Debrowski; his attorney Waldman; his business manager, Ed White; and his bodyguard, Sean Bett, were all called as witnesses, according to the New York Post. Despite the overlap, attorney Harris insisted this was a totally different trial: "Brooks's case is not about two Hollywood celebrities involved in a toxic relationship. It is about the assault of a hard-working film crew member by the star of the production," Harris reportedly told the Sun.
What does the settlement say?
The terms of Brooks's settlement with Depp have not been disclosed, though People has viewed the court documents. They reportedly came to an agreement on Monday, and if Depp sticks to it, then Judge Holly J. Fujie will dismiss the case. If he doesn't, it will go to trial on January 5. Whether he will have to return to court to revisit his defamation suit against Heard remains to be seen: She asked for a new trial just over a month after the original verdict came in on grounds that a juror who hadn't been summoned for duty wound up on the panel. The oversight does raise questions, but Depp's team has called it "frivolous" and asked that it be denied.
This article has been updated.
Psst! The Cut and New York Magazine are conducting a survey about dating. We want to know all about your swipes, IRL hookups, bad dates, and everything in between. Interested? Click here.