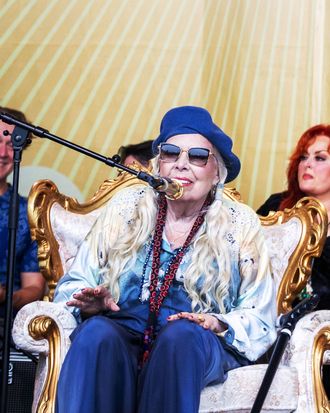 Photo: Douglas Mason/Getty Images
Over 50 years after a 23-year-old Joni Mitchell made a splash at the Newport Folk Festival in 1967, the iconic singer has returned. Wearing a blue beret, Mitchell appeared as part of Brandi Carlile's show on Sunday, billed as "Brandi Carlile and Friends," and sang an entire set of original songs and covers — including "The Circle Game," one of the songs she performed at that 1967 festival.
This was Mitchell's first concert-length performance in over 20 years. In 2015, she suffered a brain aneurysm, which required a lengthy recovery, and she has only rarely appeared in public in the years since. However, behind the scenes, Mitchell has been working her way back to performing. As Carlile and Mitchell recounted in an interview with CBS Mornings, Mitchell has been hosting "Joni Jams" at her home for years, inviting fellow musicians to perform together in her home. Eventually, Mitchell began to join in. "She started singing, and then she started playing," Carlile said, adding that the moment Mitchell started singing "Summertime" for the first time at a Joni Jam, she "dreamed" of bringing the legend onstage at Newport.
Mitchell did, in fact, perform "Summertime" over the weekend, as well as "Carey," "Big Yellow Taxi," and, of course, "Both Sides Now." Joined by a host of other musicians, including Wynonna Judd and Marcus Mumford, Mitchell sang "Both Sides Now" while sitting on a chair/throne, as everyone in the band teared up beside her.
After the show, the 78-year-old told CBS Mornings that, after 20 years, she wasn't afraid to perform in front of an audience. "I wanted to be good, and I wasn't sure that I could be," she said. "But I didn't sound too bad tonight!"