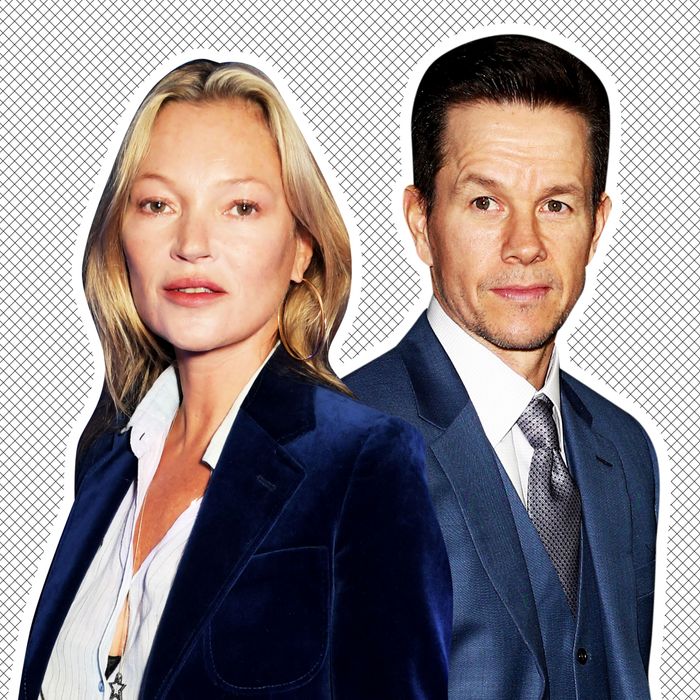 Photo-Illustration: by The Cut; Photos: Getty Images
Before Jacob Elordi, Justin Bieber, and Kendall Jenner "slipped" into their Calvins, brandishing their Adonis-like abdominals in black-and-white, there was Kate Moss and Mark Wahlberg (perhaps better known by his rap moniker at the time, Marky Mark).
In 1992, a 17-year-old Moss straddled Wahlberg, both topless, wearing Calvin Klein underwear, the waistbands of the panties peeking out of their weathered jeans as part of an iconic ad. It was shot by the famous photographer Herb Ritts and at the time caused quite a stir for its provocative pose.
In a recent interview with Lauren Laverne on BBC Radio 4's program Desert Island Discs, Moss said her memories of the shoot itself were "not very good."
"He was very macho and it was all about him," Moss said of Wahlberg, noting that he came with a big entourage, which made her feel "vulnerable and scared." She added, "I think they played on my vulnerability." She also said she felt objectified and didn't like that she had to straddle "this buff guy."
Moss, who said she couldn't get out of bed and had "severe anxiety" before the shoot, also called Wahlberg a "dickhead" in a 2012 interview with Glenn O'Brien.
Wahlberg has had his fair share of airing the dirty laundry between him and Moss, and although he's admitted he may have been "rough around the edges" at the time to The Guardian, his past public comments about the beef between the two have had the tendency to veer toward body-shaming the supermodel.
"I wasn't into the waif thing," Wahlberg said of Moss's body. "She kind of looked like my nephew."
Hmmm. Body-shaming is never cool, Marky Mark.