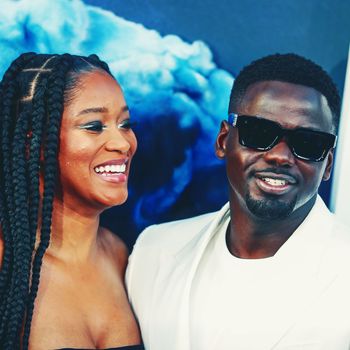 Photo: Gerald Matzka/Getty Images
As she so eloquently established earlier this week, Keke Palmer is "an incomparable talent." In her 20 years in the industry, she's done it all: talk shows, television, movies, pop, Broadway — you get the idea. But the meme queen is ready to move on to something new, something a bit more personal: matchmaking.
Palmer is currently enjoying the success of Nope, her first major blockbuster, alongside her co-star Daniel Kaluuya, and she wants you to know she's seen your thirsty tweets and DMs about the actor. "The way y'all blew up my DMs about @danielkaluuya had me LAUGHHIIIINNNGGG," she wrote on Instagram alongside photos from a Nope red carpet. "I'm really about to step into my light as a matchmaker!" (How does one get considered as a potential match, exactly? Asking for me.)
I'm not even sure Kaluuya is single, but it wouldn't be absurd to think that Keke would make an excellent matchmaker. This is the woman who birthed "sorry to this man" — she can do anything. Besides, just last week she told the Cut that she liked to keep her career options open. "I don't limit myself to one job," she said. "I'm not afraid to engage myself in other skills." Yes, other skills like setting me up with Daniel Kaluuya.
As for Palmer's own relationship with her co-star, she's said that it's more of a "sibling" vibe. Ladies, now's the time to shoot your shot.