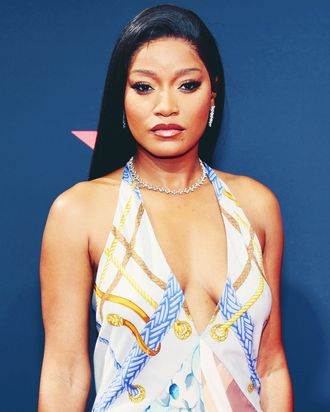 Photo: Amy Sussman/Getty Images,
If you, like me, hate horror movies, you may be inclined to skip Jordan Peele's newest spooky movie, Nope, and instead immerse yourself in the delight that is Keke Palmer's press tour for the film. While Palmer's astounding charisma has been on display many times before, her latest junket has blessed us with a fresh batch of signature Palmer sound bites. All the attention has also prompted some people to compare her to an entirely different popular Black actor — an impulse that Palmer does not appreciate.
Over the weekend, a Twitter thread discussing why Palmer's part in Nope is being called a "breakout role" when she's been a star since she was a child brought in comparisons to Zendaya, another young Black woman who started her acting career on a kids' channel. "I'd like someone to do a deep-dive on the similarities and differences between Keke Palmer and Zendaya's careers," one commenter wrote. "This may be one of the clearest examples of how colorism plays out in Hollywood." In a separate post, the same user continued, "It's weird that ppl are acting like this is a breakout role for Keke, who is VERY successful. And Zendaya has talked about colorism before …"
On Sunday, Palmer weighed in on the conservation, writing, "A great example of colorism is to believe I can be compared to anyone." She continued:
I'm the youngest talk show host ever. The first Black woman to star in her own show on Nickelodeon, & the youngest & first Black Cinderella on Broadway. I'm an incomparable talent. Baby, THIS, is Keke Palmer.
"I've been a leading lady since I was 11 years old," Palmer continued. "I have over 100+ credits, and currently starring in an original screenplay that's the number one film at the box office #NOPE. I've had a blessed career thus far, and I couldn't ask for more but God continues to surprise me."
If you know someone who can act, sing, do double Dutch, and make the Met Gala look fun, all while remaining blissfully unaware of who Dick Cheney is, maybe (maybe) you can compare her to Keke Palmer. Until then, please refrain from referring to this woman as anything but incomparable.