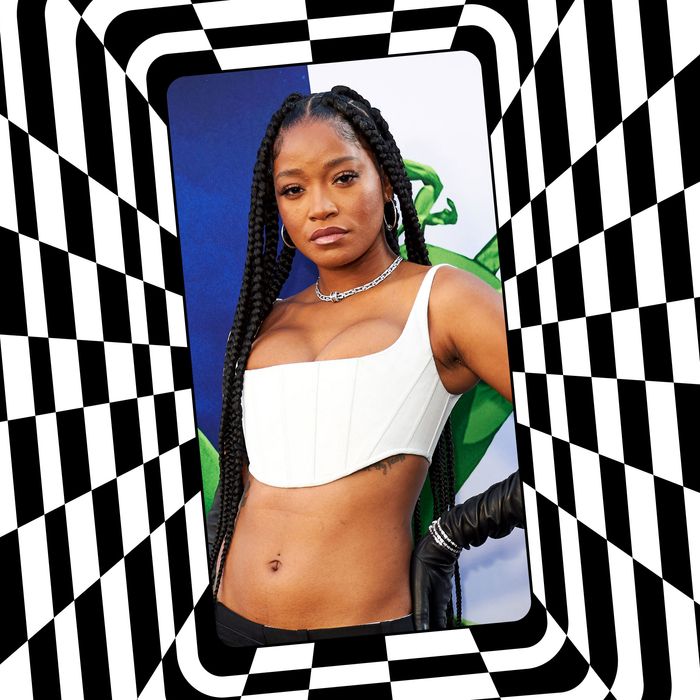 Give Keke a microphone and a new primetime spot, cowards!
Photo-Illustration: The Cut; Photo: Unique Nicole/WireImage
The one thing about Keke Palmer is that she is everything. She's an actor, a singer, an Emmy winner, a Dance Dance Revolution aficionado, and a Double Dutch champion. Most recently, she's been on a press tour for Nope, Jordan Peele's latest horror-comedy, which stars Palmer alongside Daniel Kaluuya and Steven Yeun. If you haven't heard the critical praise for Palmer's performance in the movie, you've definitely seen praise for her promotion of the film. She is, above all, impossible not to root for.
Keke "sorry to this man" Palmer has a way of delivering a sound bite that naturally takes on a life of its own. Each interview she is in, each video she posts is a joy-filled delicacy easily devoured, leaving you both full and hungry for more. This is why I had no choice but to watch all four minutes and thirty seven seconds of this YouTube compilation titled "Celebrities FLIRTING with Keke Palmer."
At 28, her résumé reads like a Hollywood bucket list. She's hosted Vogue's red-carpet coverage for the Met Gala. She's getting residuals from both Disney and Nickelodeon. She's created and starred in her own mockumentary-style series, written a book, and been invited to the White House. She even did an impression of Kamala Harris in front of the vice-president herself, something only Keke Palmer could get away with. This year alone, she was in the Toy Story spinoff Lightyear, made her mark as a new judge on the ballroom-competition show Legendary, and will be co-hosting the reboot of the game show Password. To those begging, pleading for a Keke Palmer talk show, I say … she already had one! It was devastatingly short-lived and is the only exception to the rule that we don't need any more reboots. (The aforementioned reboot of Password also gets the Keke Exception but is on thin, Jimmy Fallon-covered ice.) Give Keke a microphone and a new primetime spot, cowards!
Among my favorite things about Palmer is that she is unabashedly corny. She can giggle about wearing Titanic-themed pants — they featured pictures of roses and Leonardo DiCaprio — and quote her own Old Navy commercials while still being undeniably charming. Palmer is among the few celebrities that can be self-referential without being overly pandering. She deserves to be famous forever for those feats alone.
But you needn't take my word for it. Norm Macdonald was an instant fan. Halle Berry says she "adores" her. (Berry also recently called Palmer by her government name, Lauren. An honor and a privilege!) To quote John Boyega, "Keke Palmer. Keke Palmer. Keke Palmer."
As the world is rightfully giving Palmer her flowers, might I throw in a bouquet or even the whole entire garden? Here are just a few future projects I would love to see Keke Palmer in:
A full series of Wired autocomplete interviews. One was not enough! I need more of her thoughts on sororities being "spooky-ooky," more of her impersonating Angela Bassett. Which brings me to my next suggestion …
An evening with Keke and Angela. What does that mean? Whatever Keke wants it to mean! While I'd love, say, a televised variety special hosted by these two, I'd be happy for both of them if they just had a nice dinner and spent some time together.
More of … these! Front-facing camera comedy? Out. Keke Palmer delivering home video-style monologues? In!
Honestly, I'd watch her spell "pulchritude" for hours. Because, baby, this is Keke Palmer. She can do anything.