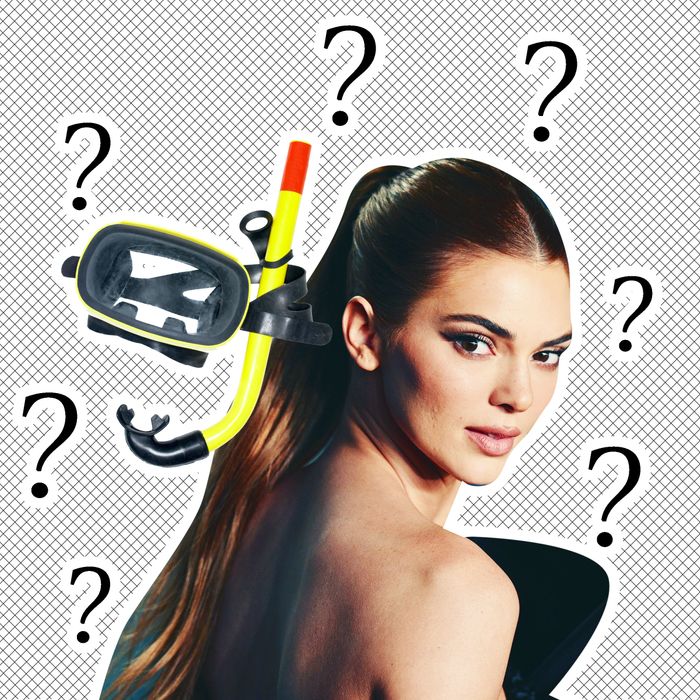 Fans have a theory.
Photo-Illustration: by The Cut; Photos: Getty Images
Kendall Jenner has supposedly been single for about a month now, and already the amateur chef appears to be on a sexy beach outing with a mystery man. It is impossible to tell who this man might be judging just from the photo evidence, which Jenner herself shared on Instagram. Please direct your attention to slide six from her Hawaiian vacation, a little vid of Jenner and some dude splashing around on the beach. Inconceivable that anyone could positively ID this swimmer … unless … ?
Unless it's Devin Booker, the basketball boyfriend with whom Jenner recently split. According to "Page Six," this is a leading hypothesis among the model's followers, who are leaving comments like "Kendall Booker" and "Devin booker and Kendall" under the post. Jenner and Booker, who plays for the Phoenix Suns, began dating around June 2020 (did you know?) and seemingly broke up last month, reportedly over professional differences: "His priority is his career," one unnamed source told the tabloid, and "Kendall's career also dominates her life," and Booker "was not going to propose marriage," so where was their relationship going? Apparently, this all came to a head at Kourtney Kardashian's big fat goth wedding to Travis Barker, where they allegedly "hit a rough patch" after realizing they have "very different lifestyles." But the sources said Booker and Jenner still "hope to make it work," and since the rumored separation, paparazzi have spotted them hanging out together.
And you, do you think this is another documented instance of the pair hanging out?
"Page Six" is framing Booker's presence as if it were fact, and maybe they know something I don't because look at this guy:
Look at his grainy, pixelated face, almost entirely obscured by diving goggles while he flops around in the waves, no telltale Olympic medal in sight. Look at his body, submerged in the anonymity of the ocean. This could be Booker, and just as easily, it could be many other people. A random dude enjoying some snorkeling, maybe? Who's to say.