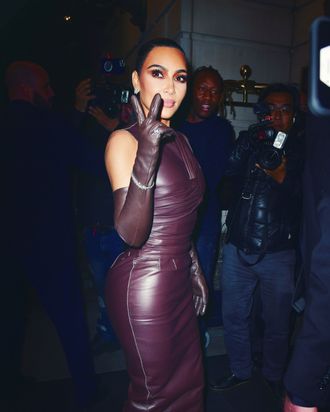 Photo: James Devaney/GC Images
Kim Kardashian loves gloves. Long, short, sheer, leather, she's worn them all. My palms feel sweaty every time I see her walk out in a new pair of gloves. That said, I can respect the glove look. It's the swim-glove look I am having trouble wrapping my head around.
Kim started soft-launching swim gloves earlier this year, posing with motorcycle gloves on the beach and leather gloves in a swimming pool. Then she made her big pitch for the accessory on the cover of the 2022 Sports Illustrated "Swimsuit" issue, where she wore nude-colored opera gloves to match her nude string bikini. Now, she's selling them. The new Skims Swim drop proudly featured swim gloves. The gloves are very long — they are essentially swim sleeves without shoulders — and come in seven colors.
To be clear, Kim did not invent swim gloves. But they're typically a functional accessory — some have webbing to help you swim faster, others are padded to keep your hands warm in cold water, and they can also help people with various skin conditions. But Kim's swim gloves appear to be purely for fashion purposes. The description calls on customers to "instantly elevate your swim look" with "trendsetting swim gloves." It's not even clear that they would provide very good sun protection, considering that the description says they're sheer when wet.
To each their own, but I do not envy Kim's tan line after a day lounging by the pool in these.