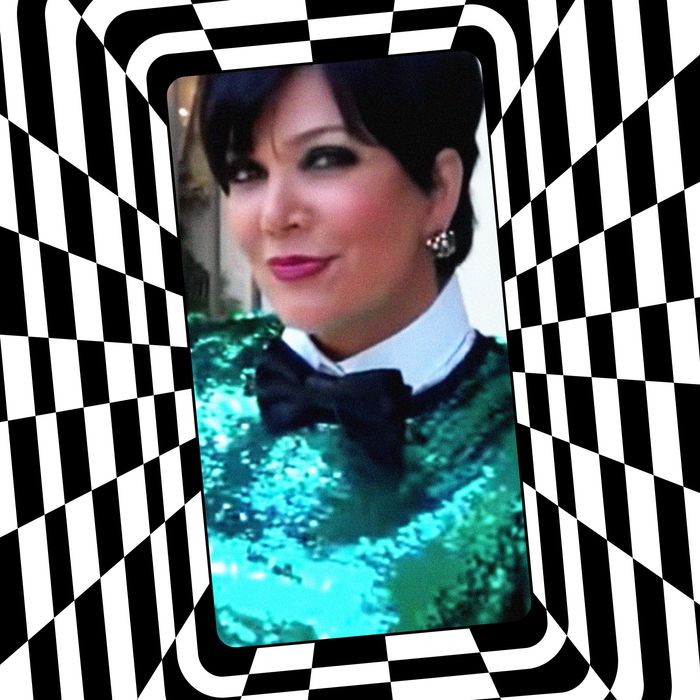 Photo-Illustration: by The Cut; Photo: MsKendallandKylie/Youtube
Another pandemic is afoot. Over the past few weeks, my TikTok For You page has been overtaken by a sound both ominous and very danceable: "gitchie, gitchie, ya-ya, da-da." Each video starts with a tabloid-esque claim — Kendall Jenner is pregnant, Tom Holland proposed to Zendaya. Then, a jump scare: The TikTok quickly cuts to an old, sped-up clip of Kardashian momager Kris Jenner lip-syncing "Lady Marmalade." "You've been KRISSED," the video mocks. "Pass this along to five friends to absolutely KRIS them!" Getting Krissed is a virtual virus, and *cough cough* I fear I am ill.
You can thank and/or blame TikToker @wandakardashian, who appears to have resurfaced the clip and ignited the trend. Their TikTok, posted earlier this month, starts with a photo of Kim Kardashian and three of her kids, overlaid with the caption, "I can't believe pete did this to kim, she was so happy with him." Shock! Gasp! What did our Staten Island rascal do this time?! Then comes the switch: a clip of Kris Jenner shimmying in a green sequined top, taunting you with her "gitchie, gitchies." "YOU JUST GOT KRISSED!" the video reads. "SEND THIS TO YOUR FRIENDS TO TOTALLY #KRIS THEM."
Getting Krissed is the natural evolution of Rickrolling, the ubiquitous bait-and-switch meme featuring Rick Astley's "Never Gonna Give You Up." It's also the reason people thought Zendaya was pregnant. (I must remind you to, please, Kris responsibly.) There are TikToks in which people Kris any classmate within AirDropping distance. Others tempt you with a safe, Kris-free space only to "gitchie, gitchie" you at your most vulnerable. Even JoJo Thee Siwa has dabbled in Krissing. The trend plays on over-the-top clickbait — watchbait? — bordering on parody. Among the most-viewed Krissings are self-referential: a TikTok saying that Kim liked the original "you got Krissed" video, another claiming Kris herself responded to the trend. I can't blame people for believing the latter. I fear it's only a matter of time before Kris finds a way to capitalize on the trend, perhaps with a series of Krismojis or an Instagram prank show called U Got Krissed!
If you're still confused … so are the multiple media outlets that have asked, "What does it mean to get Krissed?" The question feels akin to showing an inane tweet to your parents and having them ask, "Who is that?" I don't know! That's not the point! If there is any meaning behind the meme, it is to remind us of its source. The clip comes from a decade-old video of the Kardashian-Jenner ladies lip-syncing the 2001 version of "Lady Marmalade." Nothing captures the pseudo-opulence of the early 2010s so well as this video, which was apparently filmed during that year's iconic Kristmas Kard photo shoot. Everyone in the video is overdressed and underrehearsed. As Kourtney, Kylie, etc. stand in wait at the start of their respective segments, you can practically hear the person behind the camera cueing their entrance. Okay, go … NOW! During Kris's now-infamous portion, she is very clearly saying the words "Gucci, Gucci" instead of "gitchie, gitchie." Performance art at its finest.
Aside from a grasp on the lyrics to "Lady Marmalade," Kris Jenner really has it all: an entertainment empire, an entire room dedicated to her fancy dishware, an alleged church–slash–presumed tax haven, Pete Davidson. It was only a matter of time before she had her own TikTok trend as well. Kris, you're doing amazing, sweetie.