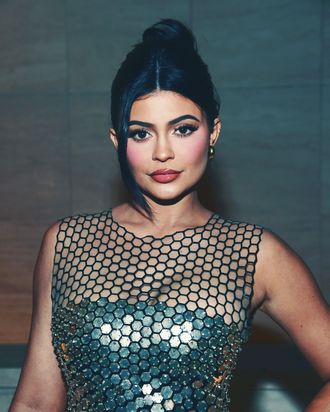 Photo: Kevin Mazur/Getty Images
Today marks the beginning of a new chapter in Kylie Jenner's complex relationship with food-delivery apps. Four years ago, you may recall, she took to Postmates to order herself a single carrot. Unfortunately, things have since taken a more hostile turn. Now, Jenner seems to be feuding with an Instacart delivery person who posted some unwelcome details about her home on his TikTok after delivering her some fancy pepperoni.
On Wednesday, TikTok user Pablo Tamayo posted a video claiming his Instacart gig sent him to deliver a $12 package of pepperoni from the high-end grocery store Erewhon to Jenner's house in L.A. According to Tamayo's post, the order was placed "under the name of Ashton," which he assumed was "her assistant or something" because he noticed security near the house and recognized it from photos. He reported asking someone at the door if it was Jenner's house before being brought in through the gate past a "little pathway with, like, a river beneath it" up to the house. "I could look into the whole house," where there were "maids and shit." "I didn't see Kylie, I didn't see Stormi, but I swear I heard a baby scream," he said, presumably referring to Jenner's 5-month-old son. Tamayo added, "This bitch could have paid me more." He later reposted a video Jenner put up Thursday of her making a pepperoni sandwich for herself and her boyfriend Travis Scott, writing, "ur welcome Travis."
Apparently, her pepperoni order being put on blast was too much for Jenner to take lying down. Commenting on the sandwich video, she wrote, "no one comes through the gate! the river ?? no river. the lying for attention rubs me the wrong way, sorry. recipe coming soon lol." She added in another comment, "i did not order this myself," claiming Tamayo "WAS tipped through the app" and "lied too about seeing through the windows and hearing my son cry." She appears to have subsequently deleted her comments responding to Tamayo. The sandwich recipe, however, is nowhere to be found.