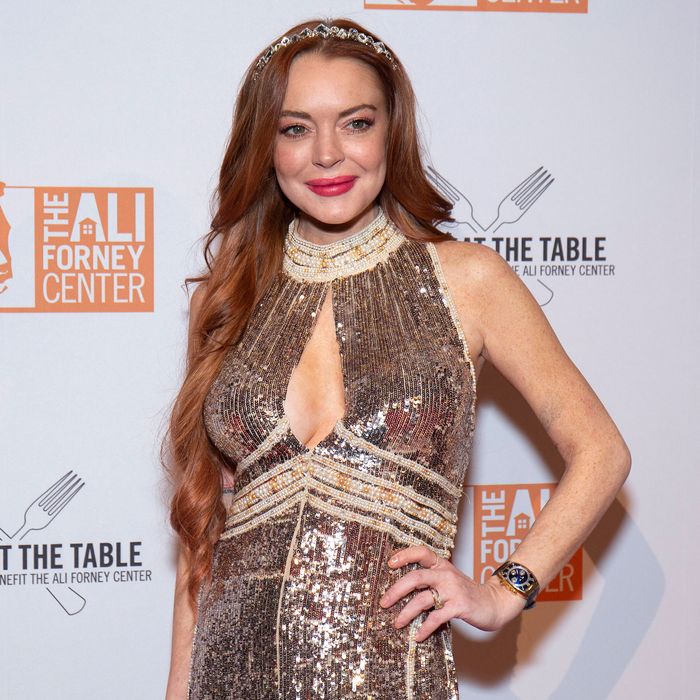 Photo: Santiago Felipe/Getty Images
It's 2022 and the Lohanaissance is officially upon us. Lindsay Lohan is back in the spotlight after years of scandal and failed reality TV shows (RIP Lindsay Lohan's Beach Club) with a new podcast, new movies, and a new husband.
Seven months after announcing her engagement to Bader Shammas, Lohan confirmed that they officially tied the knot with a casual Instagram post celebrating her 36th birthday on Saturday. "I am the luckiest woman in the world," she wrote, sharing a photo of her and Shammas, seemingly in vacation mode. "You found me and knew that I wanted to find happiness and grace, all at the same time. I am stunned that you are my husband. My life and my everything." She added, "Every woman should feel like this everyday."
It's unclear when Lohan and Shammas, who works in finance, actually got married. Since announcing her engagement in November of last year, Lohan has kept her wedding planning under wraps. Based on her Instagram, it looks like the two had some kind of engagement celebration in March. (Or they posed with a giant "She said yes" cake for some other reason.) And in February, she told Extra that she would be a "low-key" bride, adding, "Even on my birthday I want to make sure everyone else is good and then I can be okay." But she didn't reveal any other details.
So, when was the wedding exactly? Did they get married on her actual birthday? Was that Extra interview a hint all along? Unfortunately, no details have been confirmed, so all we know is that Lohan is now a married woman and also one year older. Perhaps she's saving up the details for the inevitable comeback press tour later this year, when her first Netflix rom-com, Falling for Christmas, is set for release. Or maybe she'll reveal all on an episode of her podcast, The Lohdown. When it comes to the Lohanissaince, the limit, it seems, does not exist.