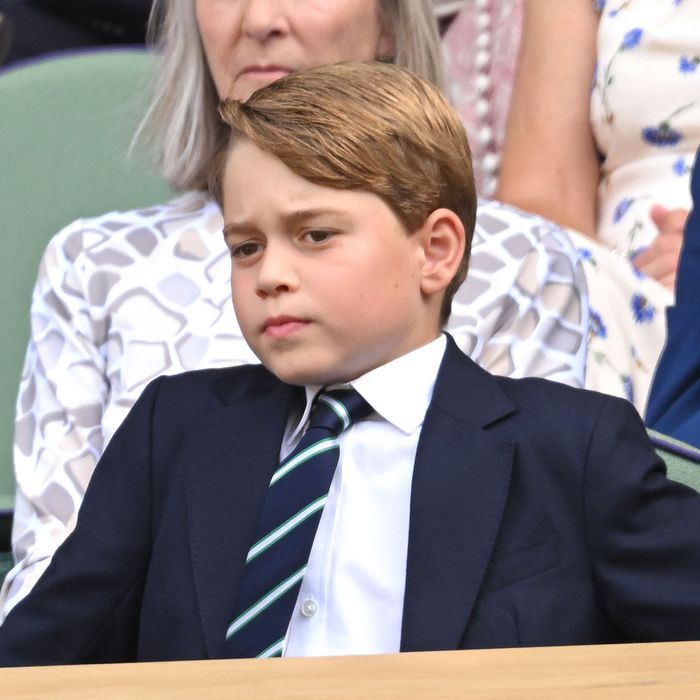 Buy low, sell high.
Photo: Karwai Tang/WireImage
Spotted at Wimbledon on Sunday: a Little Businessguy™ wheeling and dealing in the Firm's corporate box, reportedly his "debut" at England's biggest tennis match. Ever the picture of professionalism, Prince George wore a navy suit and a tie, which is apparently mandatory for those seated in the royals' section, even if you are just a junior trader and not yet a partner or the CEO. Dress for the job you want, not the job you have, as they say. Anyway, here's George watching the men's final — and preparing to SPAC?
Despite the sports dress code being an apparently inflexible feature of royal life — please recall Prince George's business attire during last year's UEFA Euro 2020 Championship — some viewers have complained that it is inhumane to force the 8-year-old into a suit while a heat wave roasts England. According to the Daily Beast, it was a bit of a hot one at the tournament, and not just because 2021's sexiest bald man (per one controversial poll) was seated in the stands. Temperatures on the center court reportedly reached 95 degrees Fahrenheit during the final. The execs were sweating:
A reporter with the Sun claims that, although our Little Businessguy™ was "on his absolute best behaviour the entire match," he "did have a subtle moan to his dad as he arrived at the Championships." Per the tabloid, here is how that exchange went with Prince William, last seen swearing (?) at the men's-singles quarterfinal:
Prince George, quietly: "It's too hot."




Prince William, stroking his hair: "Oh, you're hot, are you? It's very warm today … it'll be fine."
The Daily Beast is offering these images of George "sweltering in his suit" as evidence that Prince Harry and Meghan Markle were justified in stepping down as senior royals. Those two things don't really seem related, though, in this case, the clothing requirements do sound stifling, and as for the football match, I maintain that George should get to wear a T-shirt if he wants to. But despite it being bloody boiling outside, everybody made it through okay. Winner Novak Djokovic even let Prince George hold the big trophy, which he seemed to enjoy.
That's life in the C-suite, I guess. Buy low, sell high.