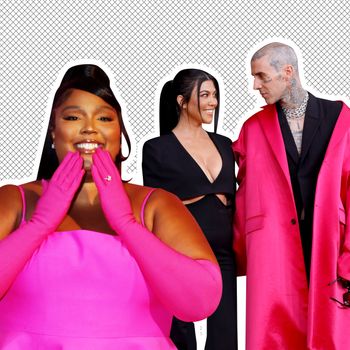 Photo-Illustration: by The Cut; Photos: Getty Images
To have sight is to have seen Kourtney Kardashian and Travis Barker make out in public. Their kissing and tongue-touching on the red carpet is legendary at this point. It's also a major topic of pop-culture debate: Is it hot, or is it cringe? If you ask Penelope Disick, Kardashian's daughter, the answer is "cringe." But if you ask Lizzo, the Kravis PDA isn't just hot — it's inviting.
"Let me get in the middle of that," the singer said during an appearance on Watch What Happens Live when asked about the never-ending PDA. "I sat next to them at the Met Gala, and I fully enjoyed it. So it's about damn time they called me." A Lizzo x Kravis collab? Add it to the list of pairings we didn't see coming in 2022.
As for what the performer's boyfriend, Myke Wright, might think of Lizzo's love for Kardashian and Barker's PDA, that's unclear. However, Lizzo did recently open up about their nontraditional relationship. Speaking on "The Breakfast Club," she explained that she doesn't like the word monogamy, calling it "claustrophobic." She's more about the love: "I think a love relationship that's not monogamous has no rules." But just because she is anti-rules doesn't mean she's constantly "fucking and sucking and ducking." Per the singer, "It just means that there are no expectations, and, that way, the love gets to just be the main event." She went on to describe her relationship with Wright as essentially exclusive but without the label of monogamous: "I just love you. I'm not worried about nobody else. I'm not worried about anybody else sexually, romantically, emotionally. I'm just worried about you."
Sounds like a double date with Kardashian and Barker is a definite possibility. The ball's in their kourt.