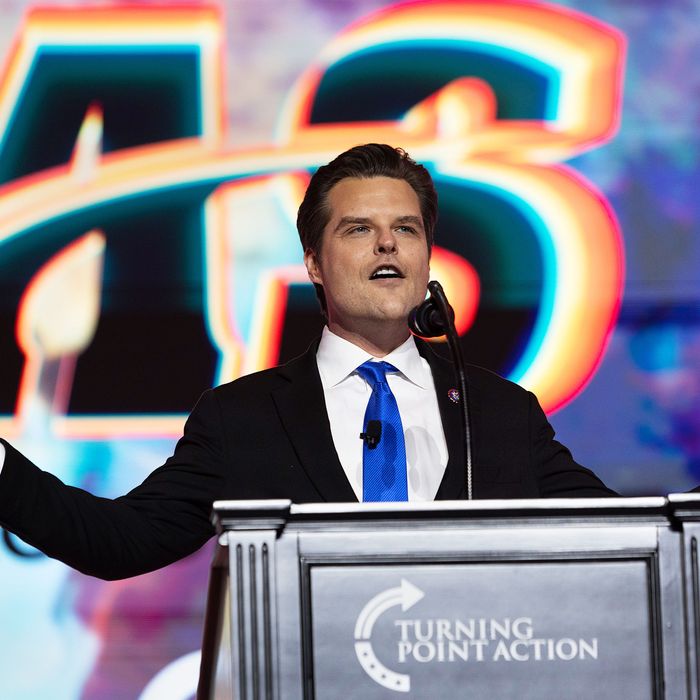 Matt Gaetz
Photo: Joe Raedle/Getty Images
Florida representative Matt Gaetz is probably not in a position to be calling anyone "odious on the inside and out." I say this because the federal government seemingly suspects him of sex-trafficking minors, but also for reasons that will soon become clear if they weren't already.
Gaetz spent part of his weekend at the Turning Point USA Student Action Summit in Tampa, where he spoke ahead of former president Donald Trump on Saturday. (Who, in turn, trotted out some of the old "I was robbed" election-fraud lines that have also earned him congressional scrutiny.) Gaetz's remarks included a screed about people currently protesting in support of abortion rights, not only calling them "odious" but also "disgusting."
"Why is it that the women with the least likelihood of getting pregnant are the ones most worried about having abortions?" he asked the conservative youths at the rally. "Nobody wants to impregnate you if you look like a thumb." Maybe you are thinking: Matt Gaetz? Dragging people for looking like thumbs? Surely not. But he then went on to ridicule women who are "five-foot-two and 350 pounds," in particular: "I'm thinking, march? You look like you've got ankles weaker than the legal reasoning behind Roe v. Wade," he said. "They need to get up and march for like an hour a day, swing those arms, get the blood pumping, maybe mix in a salad."
This is of course classic Gaetz rhetoric: In May, for example, he attempted to dunk on "women rallying against" the Supreme Court's then-impending overturning of Roe as "over-educated, under-loved millennials who sadly return from protests to a lonely microwave dinner with their cats, and no bumble matches." He only succeeded in dunking on himself with this highly specific image — in poll after poll after poll, the majority of U.S. adults confirm that they support abortion access and oppose the Supreme Court's Dobbs decision — possibly opening a window into his own after-hours life? Anyway, Gaetz hit peak gross after Newsmax published a write-up on his rally speech, saying he had "blasted abortion activists in a rant sure to raise dander of his political opponents." (Ew.) Gaetz retweeted the comment with a photo of 19-year-old activist Olivia Julianna and the caption "Dander raised … " (surely there must be another way to say this) which then caught the teen's attention.
"Am I not a little too old for you Matt? I know you have a thing for targeting teenagers but 19 is on the cusp don't you think?" Julianna, a strategist with Gen-Z for Change, replied, referring to Gaetz's possible sexual relationship with a 17-year-old girl. Both the Justice Department and the House Ethics Committee are probing allegations that Gaetz paid for this girl and possibly also other women to travel with him across state lines. Federal investigators have reportedly expanded their scope to examine "whether Gaetz took gifts, including travel and paid escorts," per CNN, "in exchange for political favors," chiefly becoming a medical marijuana champion.
But back to Gaetz's decision to attack a teen from his 1.4-million-follower platform. Julianna has since brought the beef to TikTok, inviting the congressman to "rumble, bitch."
"Lol. You tried to start a social media brawl with a Gen-Z social media girly," she tweeted at him. "How dumb." Turns out, it was a little dumb: All the publicity around Gaetz's remarks has allowed Gen-Z for Change to raise $600,000 for abortion funds, Julianna tweeted Thursday. "I'm in shock," Julianna told Newsweek, two days after launching the fundraiser. "I did not think this would be as successful as it's been. My goal was only to raise a few thousand dollars; I never expected for this to take off as much as it has." She also thanked Gaetz for having "handed [her] a national platform on a silver platter."
"[If he] would accept my gift I'd like to send him a bouquet of flowers," she added. "One flower for every hundred thousand dollars we've raised for abortion funds so far."
This article has been updated.