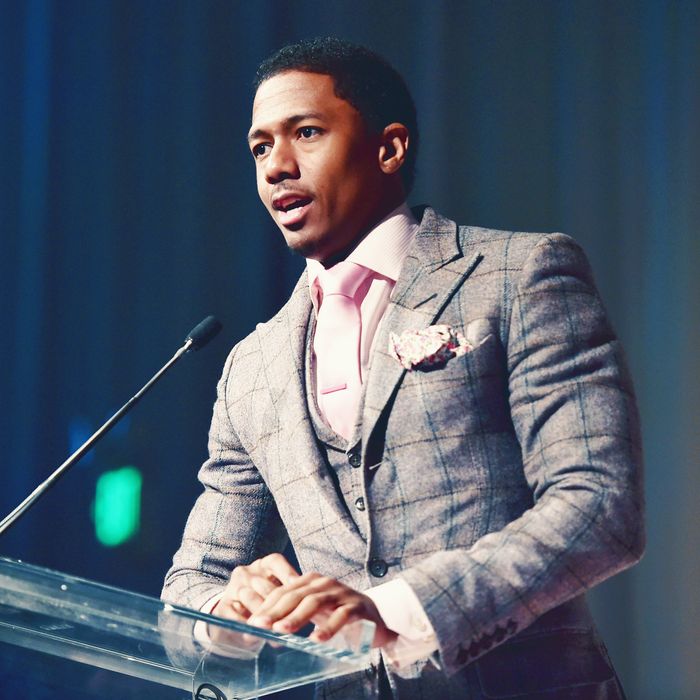 Photo: Alberto E. Rodriguez/Getty Images
As Nick Cannon prepares to add an undisclosed number of babies to his brood before the end of the year, he's getting a bit more real about what it takes to have children with four different women. And, of course, he's doing it in the form of a freestyle rap.
"I gotta say something to all of my kids / Your daddy gonna love you whatever it is / Your mama a blessing / No question she is," he rapped during an appearance on Power 106 FM over the holiday weekend. Defending his much-talked-about family lifestyle and seeming to reference the mothers of his children, Cannon added, "She scared of public opinions and public affairs / But fuck what they talk about, fuck if we care."
Cannon, who posted the clip of his freestyle to Instagram with the caption "A message to all of my kids," hinted that raising so many kids with different women was sometimes difficult. "All of my children will always be friends / Even if they mamas is not in agreeance / Cannon's the gang, and we in allegiance." He's hinted at potential discord before, telling The Big Tigger Morning Show in May that the mothers of his children "don't have to" get along because "they all get along with me."
Cannon is parent to twins Roc and Roe with Mariah Carey; son Golden and daughter Powerful Queen with Brittany Bell; and twins Zillion Heir and Zion Mixolydian with Abby De La Rosa; he recently lost his youngest son, Zen, with Alyssa Scott. He has another baby on the way with Bre Tiesi and, while not confirmed, is believed to be the father of De La Rosa's third child.
Cannon's former partners rarely comment on how he makes his big family work, but De La Rosa has been a bit more forthcoming this year, opening up about how she relates to the other mothers of Cannon's children. In early June, she answered questions on her OnlyFans, telling her followers she has met one other woman. "We've had so much fun going out to dinners and coffee," she posted. "She's a beautiful human being and I wish her nothing but the best in this forever journey we're apart of. The rest of the woman I don't know and never met but I wish them all the best as well." De La Rosa didn't name the woman in question. Meanwhile, Tiesi has said she's not in touch with the other mothers, telling Entertainment Tonight, "I respect everyone's space." While she's sure she'll be in contact with them eventually, she added, "We just don't necessarily need to at the moment. I think no matter what, the kids are going to be super-close."
De La Rosa seems to be on the same page. When asked during an Instagram Live if she was okay with her children having so many half siblings, she answered, "Omg, yess!! I grew up with such a STRONG sense of FAMILY!" She continued, "I'm not looking for anyone to understand or agree with my perspective and I'm not speaking on any other family unit except my own, but for me, my children having so many siblings is so cool to me. It's a blessing. Children are a blessing in whatever capacity that may be."
If I may give Cannon some free advice, introducing your children's mothers to one another could go a long way with that "agreeance."