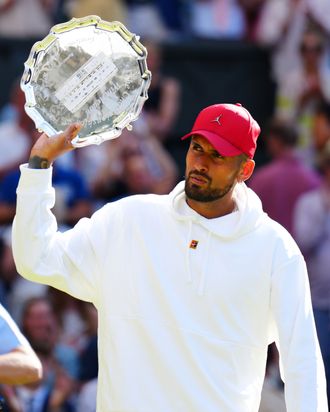 Photo: Javier Garcia/Shutterstock
Congratulations to Australian tennis player Nick Kyrgios's little red hat, which has really rumpled Wimbledon's crisply starched polos. On Sunday, the tennis player wore a red baseball cap to accept his second-place trophy, which apparently launched him into the upper echelons of British scandal.
It's not the first time Kyrgios has appeared to intentionally violate the tournament's notoriously strict dress code, which dictates that players wear "almost entirely white" clothing any time they're on the court (which, per the Wimbledon rule book, "does not include off-white or cream). On July 4, Kyrgios walked onto the court for his fourth-round match in a pair of red-and-white Air Jordans before changing into white tennis sneakers to play. Then, for an on-court interview after the match, he swapped out his white hat for a red Air Jordan one, scandalizing tennis purists. When a shocked British reporter asked if he thinks he's above the rules, Kyrgios deadpanned, "I just like wearing my Jordans."
Kyrgios observed the all-whites rule for the rest of Wimbledon, including during his match with Novak Djokovic, but he caused yet another round of uproar during that match by swearing in front of Prince George and his business suit. ("Audible obscenities," as they're called in the International Tennis Federation rule book, are subject to fines up to $20,000, though the ban doesn't seem to apply to spectators.) After the match, Kyrgios wore the same red Air Jordan hat to accept his second-place trophy from Kate Middleton, prompting outrage from a few tennis diehards who deemed this act a "disgrace," a "final act of defiance," and, tellingly, an "insult to tradition."
Although dress codes tend to reinforce elitism and exclusion in sports, tennis chief among them, the tournament insists that its all-whites rule levels the playing field, with one promotional video from 2017 referring to it as "the great equalizer." According to Time magazine, Wimbledon introduced its all-whites rule in 1877 based on the premise that white clothing would hide or prevent sweat. At the time, though, wearing white on the tennis court was actually an explicit symbol of the wealth and privilege enjoyed by those who could afford to play the sport — who were almost solely white. Plenty of exclusive tennis clubs still enforce tennis whites today, and Wimbledon's rules have only ramped up in severity in recent years. In 2017, tournament officials checked players' underwear to see if it followed the rules, and four competitors, including Venus Williams, were forced to change before or during their matches. Romanian player Mihaela Buzarnescu was forced to change her bra this year.
The elitist history of the sport's traditions isn't lost on Kyrgios, who is Greek and Malay. In a 2020 interview, he pointed out that tennis "is supposed to be a nice white gentleman's sport." He continued, "Seeing someone colored like myself go out there and be different and successful, it's not so easy to see at times."
Wearing a red hat is not the first time Kyrgios has drawn the ire of some tennis fans. In 2016, he was suspended from a tournament for yelling at the crowd and tanking a match, violating a common rule that requires athletes to put their "best efforts" into winning. In 2019, he was kicked out of the Italian Open after throwing a chair onto the court, and later that year he was fined $113,000 for insulting the umpire and smashing two rackets during a Western & Southern Open match. During this year's Wimbledon tournament alone, he was fined $14,000 — $10,000 for spitting at a fan and $4,000 for cursing during his third-round match.
It's not clear whether Kyrgios will face penalties for his choice of post-match attire. During Wimbledon, he was also summoned to appear in court in Australia for allegedly assaulting his ex-girlfriend Chiara Passari in December — something that doesn't seem to concern Wimbledon fans as much as the color of his accessories does. His legal team told reporters that Kyrgios "takes the allegation very seriously" and that he is "not considered charged with an offense" until he appears in court.