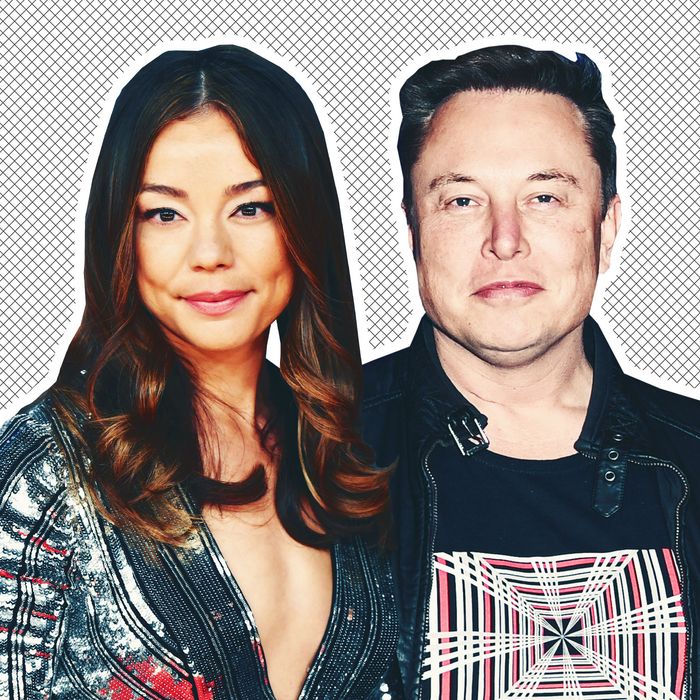 Photo-Illustration: The Cut; Photos: Getty Images
It's only Wednesday, and I have already spent way too much time this week thinking about Elon Musk's sex life. Over the weekend, the Wall Street Journal published a piece claiming Musk had an affair in December with Nicole Shanahan, who at the time was married to Google co-founder and close friend of Musk's Sergey Brin. Juicy, if true! However, both Musk and Shanahan have since denied they were romantically involved.
In a tweet, Musk called the article's claims "total bs," and for some reason also decided it would be a good time to tell the world that he hasn't "even had sex in ages (sigh)." Now, Shanahan has chimed in via her lawyer, who thankfully divulged much fewer details about her sex life. "Make no mistake, any suggestion that Nicole had an affair with Elon Musk is not only an outright lie but also defamatory," her lawyer Bryan Freedman told the Daily Mail in a statement.
Shanahan, an entrepreneur and philanthropist who runs a "reproductive longevity" foundation called Bia-Echo, married Brin in 2018. According to court filings from their divorce, they separated on December 15, 2021 before Brin officially filed for divorce in January, citing "irreconcilable differences." The WSJ story cited several anonymous sources, one of whom claimed they were separated but still living together when the alleged affair happened, and that it was the catalyst for them to file for divorce.
As for Musk, his nebulous relationship with Grimes appeared to have been on pause at the time, though they also had a secret second baby in December and reunited at some point before subsequently breaking up again in March. Grimes described their relationship as something she doesn't "expect other people to understand," which is certainly accurate.
Even outside of his relationship with Grimes, recent weeks have seen a number of reports concerning Musk's sex life. Earlier this month, news broke that he had fathered twins with an executive at Neuralink, his not-at-all-concerning implantable brain-chip company. He was also recently accused of sexual misconduct by a SpaceX flight attendant who says he exposed himself to her on a corporate jet and then paid her to keep quiet about it. (Musk referred to the Insider report about the allegations as a "hit piece.") It sure would be nice not to have to think about this billionaire's sexual impulses for … at least a few weeks?