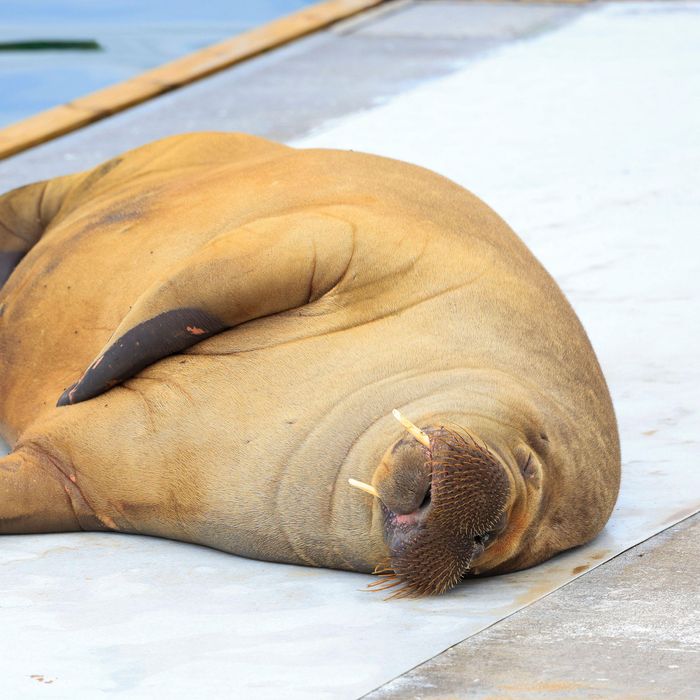 Freya napping in Oslo on July 18.
Photo: NTB Scanpix/Alamy Stock Photo
Maybe you've noticed: It's hot. Across the U.S., temperatures are climbing into the 90s and beyond, and wildfires are breaking out across Europe and the U.K. — clear indications of climate change and the general vibe right now. After my AC broke down, I've spent the past few days whirring a flamingo-shaped fan in my face, despondent and sweaty.
At least one of Earth's inhabitants seems to be living her life unbothered by our summer of hell. In Norway, a "celebrity walrus" named Freya is currently wreaking havoc by napping on (and occasionally sinking) boats in Oslo. According to the Twitter account Wild Geerters, Freya made her way to Norwegian shores this summer and has spent her time "touring the country," which apparently involves swimming around and lounging on people's boats. While you're worried about the imminent recession, Freya's snoozing on a pier, front flippers askance, ignoring a fisherman approaching on a raft. "She needs to relax for up to 20 hours," a researcher told Science Norway on Tuesday. (Same.) "When she is constantly stressed out by people and their presence, it is not good for her." (Also same.)
Walruses usually live in polar regions, but as global warming melts glaciers, Freya and other walruses have been forced to make alternate arrangements. Norway isn't Freya's first European excursion: According to the BBC, the "distinctive and well-traveled female" has also been sighted in Denmark, Germany, and the Netherlands, where she was seen napping on a Dutch submarine last year. She was also spotted last year on the uninhabited Scottish island of Vementry, where she was "having a rest" beside a salmon farm cage, snacking on seafood and avoiding humankind. "There she was, just completely unconcerned by any of the onlookers," an enthusiastic wildlife photographer told the BBC, noting that it would in fact be "very hard to disturb a walrus," who have "size and girth on their side."
Needless to say, I like this bitch's life.