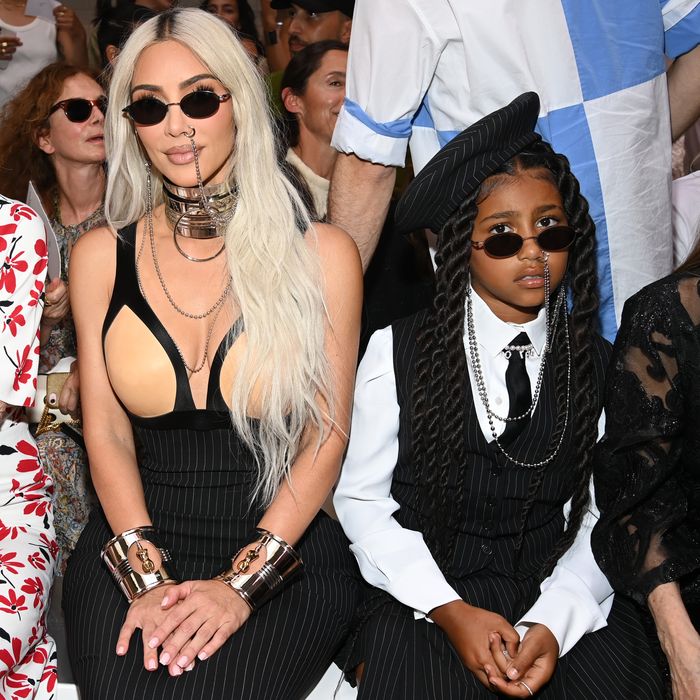 Photo: Pascal Le Segretain/Getty Images
Growing up Kardashian is basically synonymous with growing up in front of cameras at this point, but that doesn't mean that the new generation of Kardashian Kids likes it that way. North West, in particular, seems to be over the constant attention. During one of her many appearances at Paris Fashion Week, Kim Kardashian's eldest sent a pointed message to paparazzi and fans, holding up a makeshift sign asking them to "Stop."
North flashed the message to someone filming her at the Jean Paul Gaultier show on Wednesday, handwriting "STOP" on her official invite, all while sitting front row with Anna Wintour, her mom, and Kris Jenner. Short and to the point, I'd give this sign a 10/10 for effort, but a 3/10 for efficiency. (She was at a fashion show, after all.) Kim shared the video on her Instagram and Twitter, telling her followers, "North I guess had it with the people talking pictures of her so she wrote on her invite STOP and held it up and wanted them to just focus on the show."
This isn't the first time North has expressed her displeasure with photographers. It wasn't even the first time this week. As she was leaving her hotel for a different Paris Fashion Week event, she directly addressed the crowd of paparazzi waiting to take her photo. "Why do you have to wait for us all the time?" she said, clearly unimpressed.
That said, North didn't seem to hate the entire experience. She posed for photographs with her mom at the Jean Paul Gaultier show, showing off her chunky black shoes (a staple of her goth wardrobe) and her and her mother's matching nose-ring accessory. Kim also assured fans that her daughter wanted to be at the events, paparazzi be damned. "As a mom, I'm so grateful that my daughter loves coming with me on my work trips and I am able to bring her and create these memories together along with my mom," she wrote in a separate tweet.
Growing up with paparazzi following your every move probably gets old pretty fast, but at least North has a sense of humor about it all. And, if she really wants to evade the photographers, she can always follow her dad's lead and just start covering her face entirely.