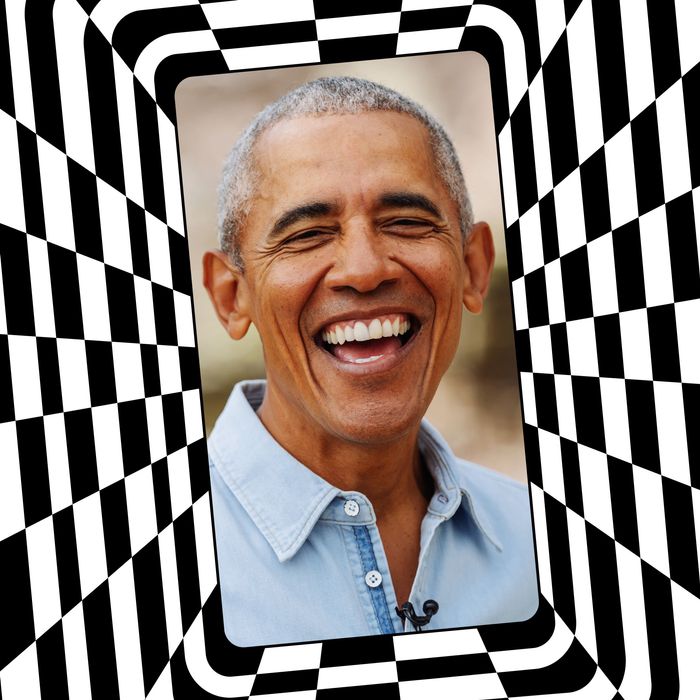 Photo-Illustration: The Cut. Photo: Nathan Congleton/NBC
A very important political document was released this week: former president Barack Obama's 2022 summer playlist. "Every year, I get excited to share my summer playlist because I learn about so many new artists from your replies," he wrote alongside his list of 44 songs. (A Taylor Swift–esque allusion to the fact that he was the 44th president?) He continued, "It's an example of how music really can bring us all together." Yes, if there's one thing that unites us all, it's an opportunity to mercilessly dissect someone's musical taste.
Per usual, Obama's summer playlist includes a few classics — "I've Been Loving You" by Otis Redding, "Let's Get Crazy" by Prince — alongside some new but safe choices — "Break My Soul" by Beyoncé, "Music for a Sushi Restaurant" by Harry Styles. There's Bruce Springsteen, Nina Simone, and Miles Davis, all artists you'd expect to see on any playlist curated by a 60-year-old. Then there's a category of songs that are pleasantly unexpected, bops and bangers I cannot imagine a POTUS listening to of his own accord.
Perhaps you wouldn't have anticipated "That's Where I Am" by Maggie Rogers to be on Obama's playlist, but it's not a complete surprise. He has included Sad Girl Anthems from Phoebe Bridgers, Mitski, and Rogers in previous years. Also, he and Michelle sent Rogers a personal apology when they weren't able to attend her Washington, D.C., show back in 2019. Obama has long solidified his membership in the Maggie Rogers Hive.
However, I wouldn't have pegged Obama for Rosalía girlie. He included her song "Saoko" on the playlist, but we all know he's secretly scream-singing along to "Hentai." Lil Yachty's "Split/Whole Time" made it onto the list, and I would pay 100 American dollars to hear Michelle Obama say "lil boat." My personal favorite surprise track is "Persuasive" by Doechii, which includes the lyrics, "I feel like I got new breasts."
This year's summer playlist also includes the 1998 hit "Praise You" by Fatboy Slim. To which I say, good for you, Barack. I, too, am still listening to songs from two decades ago like they are brand-new. (For your consideration: "Butterfly" by Crazy Town.) He also added a song by the British duo Wet Leg. It's unfortunately not "Chaise Lounge," though that will not stop me from picturing the former president singing along to the words "Is your muffin buttered? Would you like us to assign someone to butter your muffin?" The most political track on the list is, by far, "Too Good" by Drake featuring Rihanna. In 2022, the year when she gave birth to A$AP Rocky's child?! A bold and dangerous move.
The existence of an Obama summer playlist does imply that of a George Washington summer playlist, an Abe Lincoln mixtape, George W. Bush's Totes Awesomesauce 2004 CD Mix, etc. What songs did Lyndon B. Johnson sing in the shower? Would FDR have been a Belieber? The mind wanders …
While I do appreciate this small peek into Obama's musical tastes — which was likely assembled with the assistance of a millennial aide — what I really want is the raw data. How many times has Obama Googled "my money don't jiggle jiggle song name"? Is he listening to the new Minions soundtrack? How often? On previous lists of his personal favorites, he's included mini categories like a "Quick List of TV Shows That I Considered as Powerful as Movies." I would love to know his Quick List of Other Sounds He Considers as Powerful as Songs. Does it include the AOL Instant Messenger door-opening sound? The creaky approval of this dog who loves peanut butter? Christine Baranski saying "gay rights"? Keke Palmer's impression of Angela Bassett? The little song the washing machine plays when it's done? Austin Butler's Elvis voice?
I am left with more questions than answers, and there is really only one solution: Release your unedited Spotify Wrapped, Obama. It's what the people deserve.