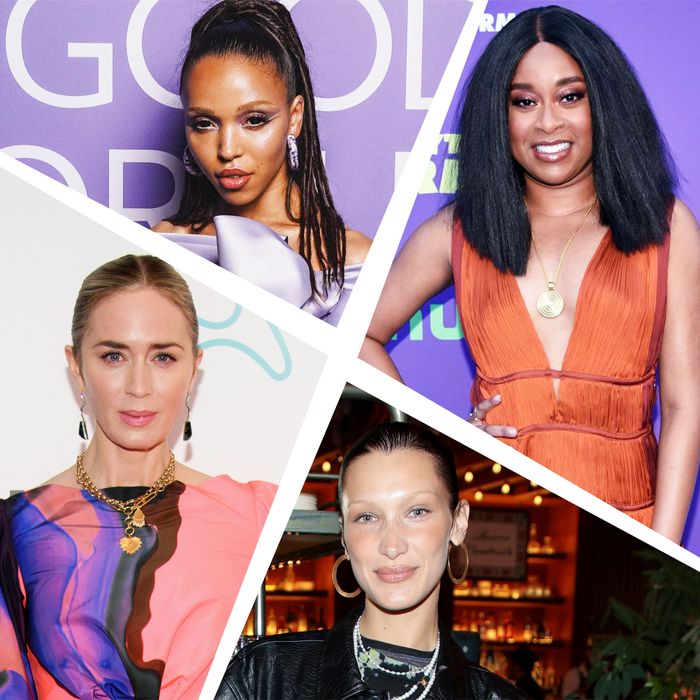 Photo-Illustration: by The Cut; Photos: Getty Images, AP Invision
It was a week of popping bottles in New York City (even more than usual). Clase Azul, Grey Goose, and Grand Marnier all hosted events. Plus Phoebe Robinson's Everything's Trash premiered, and Emily Blunt spoke at the American Institute for Stuttering's annual gala.
Best Maxi Dress: Phoebe Robinson
Who says millennials don't do center parts? Phoebe Robinson smolders in burnt orange at the series premiere of her new show Everything's Trash at 74 Wythe in Brooklyn.
Most On-brand: Bella Hadid
Between the textured jacket, knee-high boots, and stacked necklaces, Bella Hadid looks every bit the cool girl she is at the La Detresse Summer Trip Collection Celebration at Dante Seaport. Also, those socks? In this heat? Brave.
Best Drama: FKA Twigs
Purple dress, purple earrings, purple eye shadow — FKA Twigs is a lavender vibe at the Viktor&Rolf Crystal Ball party to celebrate the launch of their new fragrance Good Fortune. This look's the epitome of effortless cool.
Hang Her 'Fit in a Museum: Emily Blunt
We love the abstract-paint effect and bow details in this gown that Emily Blunt wore to the 2022 Freeing Voices, Changing Lives Gala at Guastavino's.
Most Appealing Outlaw: Luke Gilford
Photographer Luke Gilford knew just how to accessorize his all-black outfit at the gallery opening for his "National Anthem" show. In addition to being on-theme given his queer-rodeo photos, there's no way around it: Cowboy boots and hats are in right now.
Best Cutouts: Brooke Wise
We love a spin on an LBD. Brooke Wise's dress, with its cutout and tie accents, is flattering and fun at Platform's anniversary party.
Host With the Most: Christian Siriano
There's an unwritten rule that fashion designers must wear all black, even if their collections are colorful. Christian Siriano got the memo at the Clase Azul Mexico Loft in Brooklyn to celebrate the launch of the new Limited Edition 25 Aniversario.
Daintiest Slip: Chloe Cherry
Chloe Cherry kept it simple at the La Detresse Summer Trip Collection Celebration, wearing a white slip dress and Nike Air Force 1's.
Belt That's Doing the Most: Kehlani
Kehlani wore this green look at her performance In Bloom, imagined by Kehlani and presented by Grey Goose Essences at Pier 17. I've never seen a belt do more in my life, and I'm obsessed.
Best Duo: Jason Rembert and Taylor Hawkins
I love everything about what stylist and designer Jason Rembert and model Taylor Hawkins wore to Rembert's evening summer soirée with Grand Marnier celebrating maximalism in fashion and cocktails. Rembert proves that socks and sandals aren't just for American tourists abroad, while Hawkins is wearing Rembert's Aliette fall 2022 collection and is perfectly coordinated with the event's color palette.