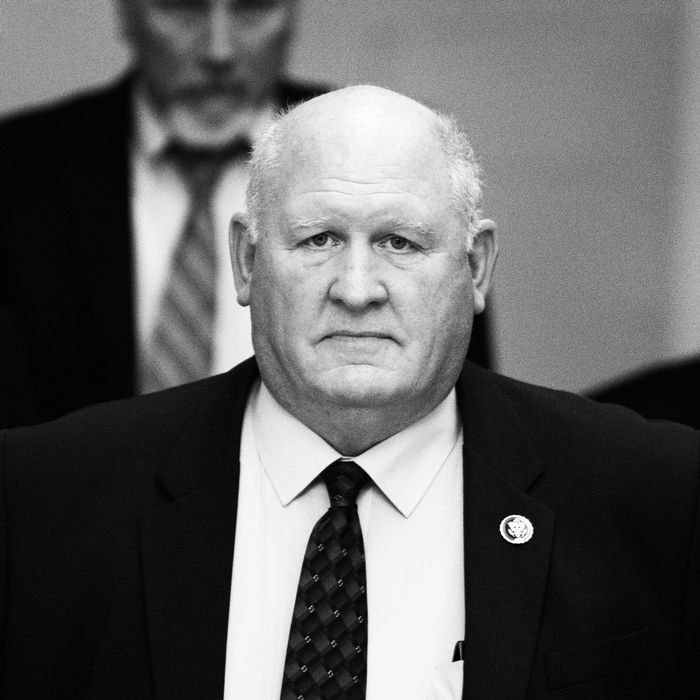 Photo: Tom Williams/CQ-Roll Call, Inc via Getty Images
In just the latest example of blatant hypocrisy from a Republican, a GOP lawmaker apparently voted against gay marriage just days before attending his gay son's wedding. Last week, Representative Glenn Thompson from Pennsylvania was one of the 157 GOP lawmakers who voted against the Respect for Marriage Act, which would codify marriage equality for same-sex couples and interracial couples. Three days later, however, he was celebrating his son's marriage to another man.
"We love it when they find their one true love, especially when they become a part of our families then. That's what we're rooting for," Thompson said in his wedding speech, according to an audio recording obtained by BuzzFeed News.
Thompson's press secretary, Maddison Stone, confirmed his attendance, telling the Washington Post: "Congressman and Mrs. Thompson were thrilled to attend and celebrate their son's marriage on Friday night as he began this new chapter in his life. The Thompsons are very happy to welcome their new son-in-law into their family." That's a different tune he was singing than when he voted "no" on the legislation, with Stone calling the measure "an election-year messaging stunt for Democrats in Congress."
The vote is a response to recent attacks on LGBTQ+ rights, including Justice Clarence Thomas's concurring opinion on Dobbs v. Jackson Women's Health Organization last month. In it, Thomas wrote that, after overturning the constitutional right to abortion, the Supreme Court should reconsider its decisions on same-sex marriage, same-sex relationships, and contraception. (Critics have pointed out he didn't mention reconsidering interracial marriage in that list, which could jeopardize his own union.)
In order for the Respect for Marriage Act to pass in the Senate, at least ten Republicans will need to support it. Some moderates who may vote "yes" include Senators Susan Collins, Lisa Murkowski, Rob Portman, and Thom Tillis. The majority of Americans are in favor of the bill, with 58 percent of voters supporting gay marriage and 71 percent supporting interracial marriage, according to a new Morning Consult/Politico poll. Among Republican voters, 25 percent opposed the codification of interracial marriage and 51 percent opposed same-sex marriage.
According to the votes' tally in the House, Thompson is far from being the only congressperson who voted against his loved ones' interests, or even their own. Representatives Michelle Steel from California and Jaime Herrera Beutler from Washington — who are among the members of Congress in interracial relationships — also voted against the bill.
In the words of my grandmother, hay que ser bien cara 'e lechuga.