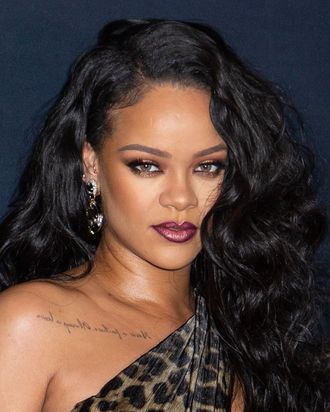 Photo: Arturo Holmes/WireImage/Getty Images
I know Rihanna is tired of us asking her for music, but I think she's trolling us at this point. In early May she gave birth to a baby boy, but in true Rih fashion, she's never not working. Her latest venture? Fenty Hair. Last week, she filed a trademark, which according to the document includes everything from hair extensions to combs and hair brushes.
As the world's youngest self-made billionaire, Rihanna has been making strides in the beauty industry since Fenty Beauty's 2017 launch, the brand that changed the beauty industry forever. Following that, her LVMH fashion brand, Fenty, was an ode to her personal style; Savage X Fenty ushered in a new generation of what lingerie looks like (and who can wear it) and Fenty Skin celebrates her hometown of Barbados with its ingredients. So if I'm guessing right, whatever Fenty Hair is will have a personal connection to Rihanna, her hair journey, and Black hair.
Rihanna is no stranger to hair trends. She's donned: a half-shaved look; short haircuts in the late 2000's; a fiery red bob and fluffed bangs. Rih's hair has always been an extension of her style. She's tried a variety of styles and has proven that she can look good in almost anything whether it's long tresses, faux locs, or braids.
Of course, loyal navy members had to weigh in. "Now Robyn … you know these are not the tracks we've been asking for," one tweet read in response to the news. Another fan said, "My melanin sis came in and took the beauty industry by storm." While fans are surprised, Rihanna low key dropped hints at a hair brand coming. In 2019 she told the New York Times, "As soon as I'm ready to give up the two hours of sleep that I get now, that's for hair. You know we're not stopping." Move over Vidal Sasson, here she comes.