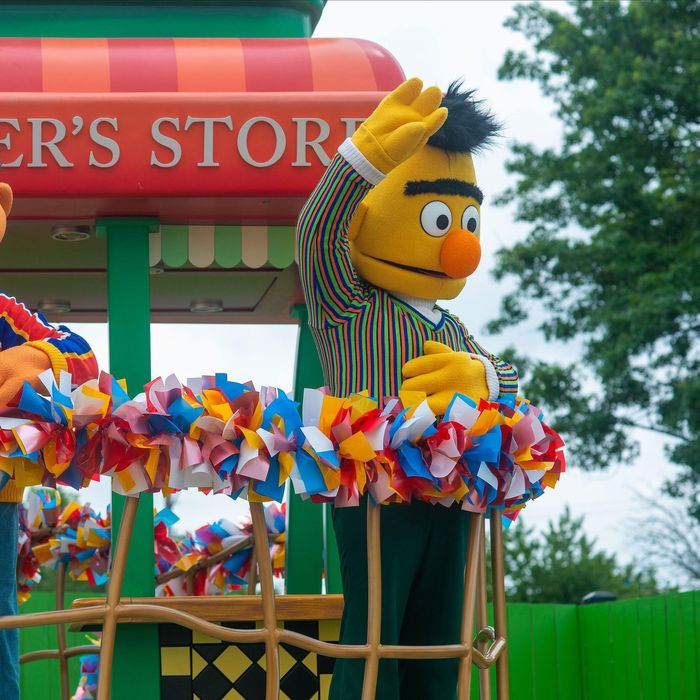 Photo: William Thomas Cain/Alamy Stock Photo
Earlier this month, Sesame Street's licensed amusement park, Sesame Place, became the subject of backlash after a video that appears to show two young Black girls being ignored by a costumed character at the Philadelphia park circulated online.
The video, which was posted on Instagram by the mother of one of the girls, shows someone dressed as the Muppet Rosita waving and high-fiving a crowd of fans before motioning "no" just before passing by the Black children, who are holding their arms out for high fives. The video ends before the mascot walks away, but the mother who posted it wrote that Rosita then hugged a white girl standing next to them. She also claims she asked another employee about who was inside the costume and to see a supervisor, but was told "she didn't know."
The video quickly circulated online, where it prompted major backlash. Kelly Rowland shared it in an Instagram Story and talked about it during an interview at the red-carpet premiere of Nope, where she said, "When I saw this and it was an extension of what I grew up learning and loving about Sesame Street and Sesame Place, I don't know what place this is that I saw. It made two beautiful little girls feel like they were just not there." Wendell Pierce also reposted the video, writing, "This moment is violent, scarring, psychological abuse. Watching it reminds me of my own." Meanwhile, other videos emerged showing what seem to be more instances of mascots at the park ignoring Black children while giving white children attention.
The following day, the park — which is one of the two Sesame Street–themed parks owned and operated by SeaWorld Parks & Entertainment — issued a statement apologizing for the incident, which it characterized as a misunderstanding. "The costumes our performers wear sometimes make it difficult to see at lower levels and sometimes our performers miss hug requests from guests," the statement said. It also stated that the person inside the costume "confirmed that the 'no' hand gesture seen several times in the video was not directed to any specific person," claiming that it was "a response to multiple requests from someone in the crowd who asked Rosita to hold their child for a photo which is not permitted." The statement continued, "The Rosita performer did not intentionally ignore the girls and is devastated about the misunderstanding."
The statement also claimed that Sesame Place reps had spoken with the family to apologize for what happened and had invited them back for a "special meet-and-greet opportunity." An Instagram Story from the mother who posted the original video appears to confirm that Sesame Place reached out to her to discuss what happened. However, she later responded to its statement in her Stories, saying her daughter and niece hadn't been the ones who asked for a photo and that Sesame Place stopped communicating with her once the video went viral. "Don't try to tell me he can't see lower levels," she wrote, referring to the costumed park employee. "He looked at them and said no!! So embarrassing and hurtful." In a video released by the family's lawyer the following week, which shows the encounter from a different angle, the employee can be seen moving on from the girls to greet the family next to them, who appear to be white. Leslie Mac, the great-aunt of one of the girls who was also at the park at the time of the incident, claimed on Twitter that the family and the kids were never invited back.
Sesame Workshop, the nonprofit that owns Sesame Street, issued a statement of its own on Twitter, writing that it has also been in contact with Sesame Place, which is operated under an exclusive license from Sesame Workshop. Sesame Workshop wrote that the amusement park "assured us that they will conduct bias training and a thorough review of the ways in which they engage with families and guests." After that, Sesame Place posted yet another statement, writing that the girls' experience was "not ok" and reiterating that the park is planning employee bias training.
On Thursday, a different family filed a $25 million discrimination lawsuit in Pennsylvania seeking class-action status against SeaWorld Parks. Citing "pervasive and appalling race discrimination," the suit names two people, Quinton Burns and his daughter, Kennedi Burns, and claims that four employees in costume ignored them and other Black guests while they "readily engaged with numerous similarly situated white customers" during a meet-and-greet at the park on June 18. The filing calls for the park to apologize to Black Americans, do psychological screenings so as not to hire biased employees, and give their current employees mandatory sensitivity training. Sesame Place told CNN it plans to review the lawsuit, and is committed to delivering "an inclusive, equitable, and entertaining experience for all our guests."
This post has been updated.