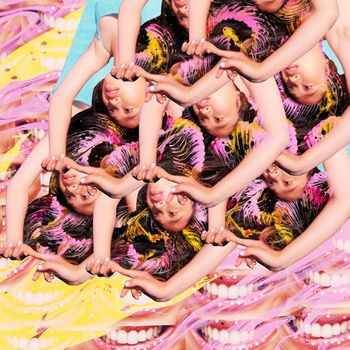 Illustration: by Marylu E. Herrera
This week, a young lawyer has screaming orgasms in her beach cottage with a guy she met online: 30, single, Cape Cod.
DAY ONE
9:15 a.m. I'm technically on vacation, so I allow myself to sleep late. I'm renting a tiny house by the beach in Cape Cod. I'm turning 30 this week, so the trip is my present to myself.
10:30 a.m. I both love and hate the fact that this place has no cell service. I have to walk a few minutes down the road to get any reception. I take my coffee down the road and see what's cooking in my inbox.
11 a.m. I'm pleased to see that Oliver emailed me. He lives out here full time and we matched when I was lining up potential dates. We make a plan to have a cocktail at a beach café. Oliver looks too good to be true. I really wondered if he was a figment of my imagination, or married, or otherwise going to vanish as soon as I arrived.
4 p.m. I've been reading and dozing on the deck. I'm a lawyer who works in finance, and my normal life is extremely stressful. I have a lot of friends and a nice social life, but honestly, no time to date. My last boyfriend was a few years ago. I ended up breaking up with him because it was all so boring. He was an unadventurous lawyer with a low sex drive and a real mama's boy. Sweet guy, but no thanks. Since then, there have been some drunken hookups and interesting online dates, but I haven't had time to cultivate anything meaningful.
6 p.m. As I drive to meet Oliver, I'm a little nervous. He looks really hot and sounds normal. It can't be good.
7 p.m. He's not as cute in real life, but that's okay. There's something kind of sad about him, though. Maybe he's lonely. Part of me thinks I should keep drinking and then we can have a fun night and I'll have a good story to tell. The other part thinks he's probably not worth a hangover tomorrow.
9 p.m. I'm not feeling it. I tell him I'm going to head home because I'm tired. He looks extra sad, which makes me even less into him. Maybe I'm a monster. But I truly am tired (and a bit let down) and just want to go back to my tiny house and sleep.
DAY TWO
8:30 a.m. I'm bummed about Oliver. I built him up in my head, and that's on me.  Back to the drawing board.
11:30 a.m. I masturbate, which I do about once a day. Since I can't get online, I close my eyes and think about fucking an (imaginary) hot surfer who's renting a little house next to me.
2 p.m. Take myself to a nice lunch in town. I'm really happy not to feel like shit today and commend myself for ending the Oliver date early.
4:30 p.m. I do a pretty deep swipe session online. I have three more days here and want to meet a few more men if possible.
5 p.m. Swim in the ocean since the sun has settled down a bit. Today was a scorcher!
7 p.m. I shower, get into bed naked, and start reading a new book. It really doesn't get better than that. I can hear waves from my window.
DAY THREE
10:30 a.m. I take my coffee down the street to see if any of my swiping paid off. I matched with a few cute guys. I cut to the chase and tell the best prospects that I have a free night tonight if they'd like to grab a spicy margarita somewhere. First come, first serve … I don't say that, but it's my plan.
12:30 p.m. Oh, I almost forgot, it's my birthday today. I already celebrated my 30th in New York with friends and family. I feel good about turning 30. I like where I'm at professionally. I'm comfortable with myself. I would like a serious relationship soon, and if not that, some nights of rock-star sex. I know I need to put more effort into dating, and this week is a fun kick start to that.
3 p.m. I read my messages on the beach. There's a guy named Tyler who is here with his best friends from college. He lives in Boston, and we have some things in common (similar work life, similar family life). We pick a place to meet tonight. I have a really good feeling about him.
5 p.m. Tyler texts that his friends — two married couples — want to come tonight. Ughhh. I don't need to make a fuss about it, but I'd prefer not to spend my birthday with shitty strangers I have to make small talk with. It also makes it seem much less first-date-y.  But I'm not going to say no! (I mean, can I say no?)  I tell him it's totally fine with me.
7:37 p.m. I get there a little late because walking into their crowd feels less awkward than waiting at a big table alone for 5 people I've never met who all live in Boston.
Tyler is HOT. The friends are nice, but way less edgy than all my NYC friends. Tyler and I have chemistry though. My brain tells me immediately that I want to fuck him. The key is getting through tonight.
8 p.m. He sits next to me and is already a little drunk. Not messy, but I can smell it on him. The way he cozies up to me without any embarrassment around his friends makes me think he's the group flirt who always has a new girlfriend. I shouldn't judge him so quickly, but I don't want to be naïve either.
9 p.m. They are all telling funny college stories, and I'm like … umm …. Haha.
9:30 p.m. I make the decision to have a third margarita and fuck Tyler tonight.
10:30 p.m. The friends are taxiing home. Tyler asks to see my tiny house. I'm drunk. He's drunk. We decide to walk.
11 p.m. At my cottage, we rip each other's clothes off. Tyler has a small dick, but he goes down on me like no one else ever has. He flips me over and licks my ass, and it's heavenly.  Before I come, I tell him to put on a condom and we fuck like rabbits and have explosive orgasms. We probably woke up every tiny house on the row, but I'm choosing not to give a shit.
11:45 p.m. I kick Tyler out and he kisses me on the lips before he goes. We are both sweaty and salty, but the kiss is surprisingly sweet. I would not mind seeing this guy again.
DAY FOUR
9 a.m. I hear my phone buzz. I guess I suddenly have service? It's Tyler, checking to see how I feel.
10 a.m. I realize I never mentioned it was my birthday, so I tell him he gave me a great birthday night.
11 a.m. He is shocked and insists on a proper birthday-dinner date tonight. I tell him I'll allow it. Now that I'm sober, I'm less into Tyler than I was last night. But he's very sweet over text, and he did rock my world last night. We pick a place and time. If he texts that his friends are coming, it's going to be a hard pass.
7 p.m. We meet at a restaurant known for great seafood. Tyler looks really handsome. He has flowers for me as a belated birthday gift.
9:30 p.m. We split a bottle of white wine and clearly want to repeat last night, so we go right back to my bungalow and start to fool around. The foreplay is mindblowing and I come at least twice. I feel like I squirted, but he doesn't mention it and I don't ask.
11 p.m. My bed is too small for a sleepover so I kick him out nicely. He's leaving tomorrow so we make plans to see each other in New York. I'm happy with how our two-night fling played out, but I don't feel emotional about him leaving.
DAY FIVE
9 a.m. I'm doing a spa day today as a birthday gift from my parents. Facial and massage await me.
4 p.m. The spa was amazing. The only problem is I'm so relaxed I honestly worry I'll fall asleep on the drive home. On my way out, I order a strong coffee from the little café in the lobby.
7 p.m. I'm all tucked in and ready to get a good night's sleep. I barely checked my phone all day, but no texts to or from Tyler. All good!
DAY SIX
1 p.m. As I drive back to New York, I smile to myself thinking about my screaming orgasms from Tyler. I definitely do not regret those!  It would have been nice if he was relationship material, but he's not.
4 p.m. I'm home at my apartment. I'm a bit drained from the drive, but I swipe on Tinder and Hinge and make some plans for tomorrow.
9 p.m. I start watching The Bear. I'm very attracted to Jeremy Allen White, who plays the main chef. I watch until I can't keep my eyes open.
DAY SEVEN
10 a.m. Classic Sunday brunch with a few girlfriends. They're all in relationships, and I feel a bit jealous of the stability. As a single woman, my vacation made me feel both empowered and a bit depressed. I tell everyone about Tyler. They all say I should give him a chance simply because he's cute and gives generous oral sex.
He texts after lunch. "Are you back in the big, bad city? I'll be there next weekend … Meet up?" I take a beat before writing him back.
3 p.m. Lying on my bed, I respond to some guys online. I really want a boyfriend. Tyler was great, and yes, I'll see him again, but he's likely not going to cut it.
7 p.m. I take out my vibrator. Closing my eyes, I imagine being back in my beach cottage. This time, a local chef comes by after his shift and fucks me until the little house shakes. I told you I was enjoying The Bear!
Want to submit a sex diary? Email sexdiaries@nymag.com and tell us a little about yourself (and read our submission terms here.)