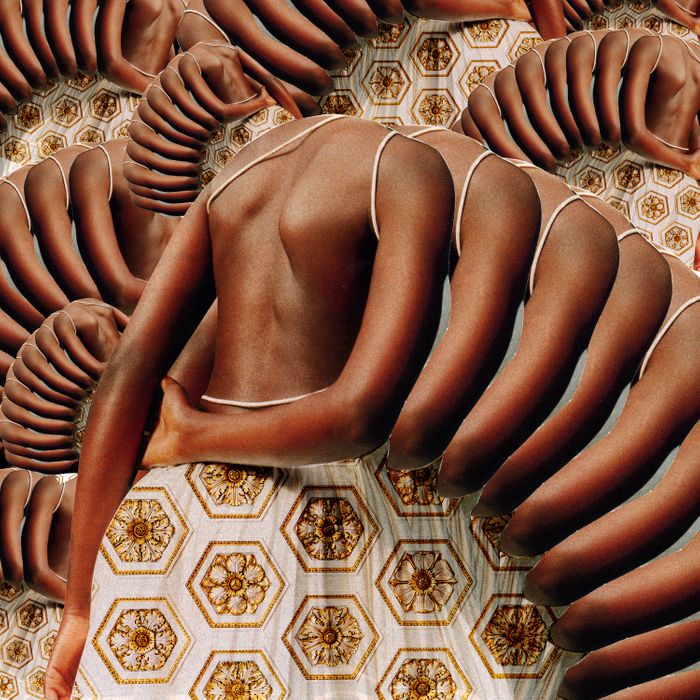 Illustration: by Marylu E. Herrera
This week, a man explores his sexuality, kinks, and boundaries after being in a heterosexual marriage: 34, in a polyamorous relationship, Philly.
DAY ONE
8:30 a.m. I wake up Sunday morning in J's West Village apartment. We met 12 years ago at a party (when I was straight and he was a woman) and severely disliked each other. We recently reconnected when I saw him tweeting about his divorce and subsequent transition. I slid into the DMs to welcome him to the queer divorcé club.
My ex and I were together for seven years. Our marriage failed simply because we grew apart. We went poly as an attempt to revive it, which was a disaster. When I was suddenly able to date again, I realized I was attracted to men (a realization that happened at the gym, naturally).
Anyway, J is an ideal twink — both boyish and delicate. We see each other every couple weeks and talk a lot in between.
9 a.m. J and I fuck before my bus back to Philly. I can tell J loves being a boy and loves fucking and being fucked by other boys. Giving him that experience is as gratifying as the sex itself.
11 a.m. From the bus, I text my girlfriend, K, who lives in Boston and is visiting on Thursday. We've been doing long-distance for the past seven-ish months. I tell her about my weekend with J, whom she's met. It's cheesy poly shit, but I'm glad that my girlfriend is becoming friends with someone I'm seeing.
7 p.m. I pause a game of Elden Ring to jack off.
11 p.m. I turn off my PlayStation and text both K and J good night.
DAY TWO
9 a.m. I do my WFH spreadsheets job in ad tech. Boring, whatever.
1 p.m. Message A to confirm that we're gonna hang out later. They get back to me a little later to confirm.
6:30 p.m. Yoga class.
9 p.m. A and I cuddle in our underwear. They were a regular third with me and the person I was dating during COVID, but since then, we've been trying (and failing) to reconnect for some time.
A is a professional dancer and has an absolutely incredible body. We don't end up hooking up, but it feels nice to be with them. They've seen a large part of my queer development over the past two years. They tell me they're moving to the West Coast for a dance job. I tell them I'm thrilled for them, though privately I'm sad, wishing I had prioritized seeing them more.
11 p.m. I make out with A in their foyer until my Uber arrives. I'm regretful that I didn't try and initiate a hookup earlier. We promise to hang out before they leave.
DAY THREE
9 a.m. Log onto work, check some emails.
9:30 a.m. Feed my sourdough starter. I make bread for a weekly queer potluck I go to with C, a nonbinary drag queen I've been seeing somewhat regularly. I text them confirming they're going to the potluck tomorrow. I also text V, the yoga instructor I'm supposed to see tonight. She has incredible abs, big eyes, and a blonde mullet. She's got that yoga-teacher crunchiness (which I definitely have a thing for).
2 p.m. I ask K about her plans for tonight. She's going to a book signing about queer history with a woman she's seeing. I tell her that I'm seeing V tonight. We're both happy for each other.
7 p.m. I bike to V's place. She makes vegan ramen. Before long, we're naked in her bedroom. V loves that I can toss her around and pin her down — I was a powerlifter and a bodybuilder for years before switching to yoga — and I love how bendy and flexible she is. I pick her up off the ground and fuck her while standing up for a bit, which I can tell turns her on. She comes a bunch of times and then asks me to come. I oblige.
10:30 p.m. My legs are so tired and sore that I need to bike home standing up.
11 p.m. K texts me a cute selfie of her and her date. I tell her I hope she has a nice time and turn on Elden Ring to play for an hour before bed.
DAY FOUR
7 a.m. I wake up to a text from K about how she had a whole bunch of gay sex. Hell yeah.
11 a.m. The loaves of bread look great. I take a picture that I post to Instagram and Twitter and send to everyone I'm hooking up or flirting with.
5:30 p.m. I head over to see C before the potluck. We catch up in their backyard. They're disarmingly sweet and easy to talk to, and they bring out a kind and gentle side in me that I like.
6 p.m. We go to their room to make out and jack each other off a bit. Neither of us come, but neither of us feels the need to. Something about hooking up with C brings me into a really nice "head empty, no thoughts" space. With other people, my mind can wander regardless of how much I'm enjoying the sex, but with C, I feel totally enveloped by the experience.
9 p.m. C and I kiss each other goodbye after the potluck. I catch a ride back to my neighborhood thinking of how sweet they are.
DAY FIVE
7 a.m. K comes to Philly today!
12:30 p.m. K texts me a cute selfie of her on the Amtrak. I respond with a heart-eyes emoji.
5:15 p.m. K arrives at my apartment, and I'm thrilled to see her. She's got amazing curls, deep doe eyes, and a deliciously tight climber's body. We met at a friend's party. I wasn't sure I was ready for a relationship, but the emotional connection was too good not to pursue, even with the bullshit of long distance. Now she's moving to Philly to be with me (and to get out of Boston). She's been poly her entire adult life and is getting ahold of her own bisexuality in the same way I am. It feels good to be with someone who is going through some of the same stuff as me.
We have a long, sweet embrace. I bury my face in her hair and inhale her scent. We strip down and climb onto bed. Eventually, cuddling turns to fucking. We've become experts in each other's pleasure. I finger her, and she uses a vibrator until she comes, then I fuck her from behind and come inside of her — our eyes locked in the mirror I've hung up next to my bed. We take a couple cute naked selfies together, then pass out in each other's arms, our feet snuggled by my cat.
8 p.m. We wake up from our snooze and decide to hit up the kink meetup at a bar in my neighborhood. I'm new to the kink scene, but K's been doing it for a while. We make light small talk with some of the attendees before K eventually works up the confidence to ask a pretty woman whom a few people are hitting if she can have a turn. As K deftly slaps the woman's ass with a riding crop, the woman whimpers with pleasure, her back arching. I consider the possibility of inviting her home and fucking her together. But she's there with her cute (but obviously straight) boyfriend, and I'm sure he's probably thinking the same thing about K.
11:30 p.m. We head home giddy with excitement that K will move here and we'll be able to do this all the time. I'm tired, but K is very good at rousing me when I'm sleepy. We fuck and pass out in each other's arms.
DAY SIX
12:15 p.m. We use our lunch break to have sex. K is exploring some bi-gender stuff, so she wears a binder and I call her my boy. I don't love being too dominant with women, but I do like it with guys. I have her call me "Daddy," slapping her ass and fucking her hard. Neither of us comes, but we both get a lot of pleasure out of it.
5:30 p.m. Yoga class with K. V isn't teaching tonight, but all parties have confirmed that it wouldn't be weird if she were. During class, I idly imagine a post-yoga threesome with K and V.
7 p.m. K and I grab takeout on the way back from the studio, smoke weed, and watch a few episodes of Star Trek: Deep Space Nine. (She's a huge fan.)
9 p.m. K pegs me with the strap that we bought on her last visit here. I quiver with pleasure. We're both tops but switch for each other. She pulls my hair, and I ride her strap in a bunch of positions. When my asshole can't take it anymore, I fuck her and come inside of her. Then I get her off using a combination of a vibrator and a metal insertable wand. She squirts a bunch (we've learned to put a towel down), then comes hard, melting into my arms.
DAY SEVEN
8 a.m. I wake up before K and get some Elden Ring time.
9:30 a.m. K wakes up, and we get bagels and coffee.
8 p.m. After a relatively low-key day, K and I prepare to go out with some friends to a local queer dance night. K does my eyeshadow, and I wear my black-leather harness, leather cuffs, and cat ears.
11 p.m. We meet our friends at the club, who have coke and mushrooms. K partakes of both, but I stick to weed. There are lots of cute boys.
11:30 p.m. A handsome guy with a Jersey accent comes up to me and excitedly says hello. I'm visibly confused until he reminds me that he's D, the guy from my first Grindr hookup last fall (well, one of them — it was a foursome in a hotel where I was too nervous to get hard). I introduce him to K, who tells him it's an honor.
12 a.m. Dancing and flirting with cuties together (plus the drugs) have K and me buzzing and frisky. We go into a bathroom stall, and she immediately starts blowing me. The seediness of the whole experience is a huge turn on for both of us.
1 a.m. Our friends imply that there will be an after-party and likely an orgy, but both K and I are running out of energy and want to catch a yoga class in the morning. We take an Uber home, have some soft and sleepy sex, and go to sleep in each other's arms.
Want to submit a sex diary? Email sexdiaries@nymag.com and tell us a little about yourself (and read our submission terms here.)