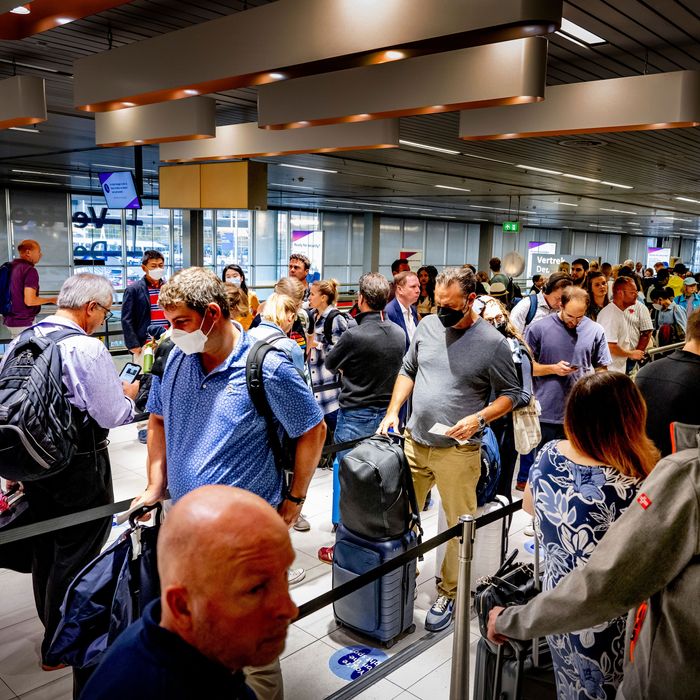 Me, soon.
Photo: Robin Utrecht/Shutterstock
Like so many other chumps, I recently decided that now feels like a reasonable time to take an international trip. I haven't left the country in five years, and given that COVID restrictions have eased and millions of other people are doing it, why not get out of my inferno of an apartment? Why not go somewhere I have never been, where it is also hot but very beautiful and where my partner will be? Why not go to Greece??
Booking the tickets, I felt excited at the prospect of spending two weeks swimming in the Aegean. I also felt agitated and overwhelmed, looking at all the bonus crap the airline wanted me to buy. Has it always been this way? I could pay to check a bag, or I could pay to carry one into the main cabin. I could roll the dice and let the airline choose my economy seat, or pay $75 to request a seat assignment in a regular, non-exit row. Did I want to purchase insurance ($100-plus) to guard myself against freak cancellations? I did not. I settled on a return flight through Amsterdam Airport Schiphol, a one-hour layover that I thought allowed me ample time to change planes.
That was before I'd read the news. In recent weeks, Schiphol has emerged as a locus of pandemonium and a key player in the commercial flight crisis. Around the world, delays and cancellations are rolling in at record numbers. Checked luggage is arriving late or, often, not at all. In a Los Angeles Times article entitled "Perfect storm of problems leads to European airport travel chaos," one passenger recalled arriving at Schiphol four and a half hours early for her flight to Athens to find the security line coiled through the entire terminal and spilling out the door and under an ersatz tent. Feast your eyes on the queue unfurling outside the airport last week:
Even as ticket prices climb, air travel appears to be rebounding toward pre-pandemic rates. In May, domestic airfare was projected to cost about 50 percent more than it did last summer, and 25 percent more than it did in 2019 — not least because of the added fees that crop up everywhere you turn. Anyone who's flying this summer should be prepared to spend not only an incredible amount of money but also an incredible amount of time. If you have not been personally victimized by an airport these past few months, I'm betting you know someone who has been, or that you have at least seen the fallout online. Behold the checked-bag purgatory at Heathrow, for example:
The scale of collapse is spectacular to behold, a multilayered calamity that mostly comes down to staffing issues. At the peak of the pandemic, when relatively few people were flying, a bunch of airlines offered pilots buyouts and early retirement, which many took. Lots of airlines also made cuts to save money, exacerbating existing personnel shortages. Flash-forward to spring 2022, and air travel began to bounce back at an astounding rate: Maybe it's because everyone you know is getting married, or maybe — as evidenced by the fact that 75 percent of Instagram appears to have decamped to Europe — people are just thirsting for the large-scale vacations that may have been off-limits these past three years. But it's becoming clear that airlines lack the requisite workforce to meet demand — people to check in passengers, handle their bags and get them onto the planes, corral travelers through security, take care of them while they're airborne, fly the planes, and certainly, field their complaints when things go awry. Nonetheless they are persisting, apparently selling seats on flights they will absolutely end up canceling over these shortages. That is, I guess, showbiz baby.
Such tight manpower margins leave little room for error, so when things veer even slightly off course — when an aircraft encounters a maintenance issue, for example — the entire system begins to crumble. Pilots and flight crews time out without anyone to backfill their shifts, grounding planned flights for hours or axing them completely, creating a ripple effect. As travel industry analyst Henry Harteveldt of Atmosphere Research Group told NPR earlier this month, if you are planning a summer trip, then you can expect a "Hunger Games–like battle to get the fares you want, the flights you want."
Maybe you are prepared to duke it out for your hotly anticipated vacation, but please remember the pilots. Lately, when I hear a plane rumble overhead, I think of an old PSA that played in my high school's morning assembly warning us of the dangers of "sleepy driving," allegedly as deadly as drunk driving. Now I look at the sky, ostensibly filled with sleepy pilots entrusted with hundreds of lives at a time, and shudder. Massive exhaustion is one reason why pilots have been picketing the airports. Understaffing has reportedly extended many of these air captains to the breaking point, as confirmed by the Southwest Airlines Pilots Association's warning to its airline in April: "Fatigue, both acute and cumulative, has become Southwest Airlines' number-one safety threat."
Some of the catalyzing factors behind this collapse lie outside the airlines' control: Russia's war on Ukraine, rising fuel costs, global supply-chain shortages, and inflation have all hiked up operational costs and consequently, the cost of your trip. Then there are the classic wrenches in the machinery, chiefly, the weather. You may be aware that a brutal heat wave has consumed large portions of North America and Europe. Usually it's the storms that will screw with a flight plan, but last week in the U.K., where temperatures soared into the triple digits, tarmacs at London Luton airport apparently melted. Luton had to divert flights to an already-strained Gatwick, where boiling temps reportedly led some people to pass out in hours-long lines.
Those who have found themselves trapped in the middle of this evil Venn diagram return with harrowing tales. There's the Australian couple who arrived to Rome-Fiumicino International Airport to discover the airline had booked their infant on a separate connecting flight to Bangkok, and say they then spent 20 hours on the phone trying to get home. There's the family of four who claim they missed a $5,500 cruise to Alaska after two consecutive days of flight delays and cancellations that led them on a tour of Canada's airports, including Vancouver International, where they spent a night sleeping on the floor. (One of the kids allegedly contracted COVID in the process, and wound up in the emergency room shortly thereafter.) There's the woman who says she spent a week at the Dublin airport, trying to locate a checked bag containing her parents' ashes. And there's also the passenger who claims that Delta returned her luggage to her looking as if it had been run through a giant shredder, and only reimbursed her for its contents (to the tune of $3,670) after she went on Inside Edition.
This kind of thing seems to be happening all over the world, with over 20,000 flights delayed and over 2,000 canceled globally on July 28 alone, according to FlightAware. If you would like to see what it looks like in real time, let's check back in on Heathrow, obviously thriving as of last week:
What's up Sydney???
I can't tell which airport this is but I never want to go there.
And a scene report from New York's JFK airport from a passenger who claims to have spent three hours sitting on the tarmac before the plane ran out of fuel:
Yet the probability of misery has not inspired the crowds to simply stay home: A baffling number of people, myself included, remain hell-bent on traveling. The numbers are expected to stay way too high through the end of the year, as dummies like me continue to stick our hands in the fan. No one should feel bad for us, swanning around Europe and overrunning foreign beaches in this economy. I know the system is overloaded and can't take more, just like I know how large a chunk air travel — particularly transatlantic air travel — eats out of whatever meager carbon budget the planet has left to spend.
And so the question is why: Why do I insist on flying at the worst possible moment? I don't have an especially strong answer, but when my brain balances the pleasures of sea urchins and boats against the Sisyphean torture of airport limbo, the winner is clear. Since the pandemic began, life inside my apartment has been hell: I've had bed bugs twice; last winter, a nest of baby mice that may have been rats moved into my radiator; a portion of ceiling over my bed hatched like an egg; my roof has leaked during multiple storms; and that's before we even prod the existential angst that seizes me each morning when I open my computer and embark on the day's headlines. At least when I am crying in a Dutch bathroom stall in the middle of a multi-day layover, I will not be crying in my own bathroom, again. Put me on the AerLingus Mystery Flight and jettison me straight into the center of the sun. Anywhere but here.